South Wales companies 'linked to IS terror plots' abroad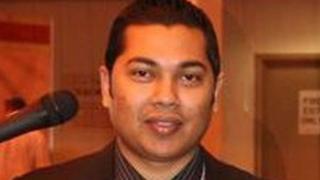 A group of companies based in south Wales are alleged to have had links to terror plots by so-called Islamic State.
FBI documents claim firms set up by Pontypridd businessman Siful Sujan financed IS plots in the United States and sent equipment to Spain and Turkey.
Bangladesh-born Sujan, 31, left Wales in July 2014 for Syria, where he became a computer hacker for IS.
He died in a US-led air strike near Raqqah in December 2015.
Following his death, a Pentagon spokesman was quoted as saying "ISIL [another name for IS] has lost a key link between networks".
It has now emerged Sujan allegedly used some of his south Wales companies to send military-grade surveillance equipment to Spain and to an address in Turkey close to the Syrian border, and to transfer funding to an IS supporter in the US.
FBI documents revealing the links were released following a court case in Baltimore, Maryland, last week.
Mohammed Elshinawy, 32, pleaded guilty in a federal court to accepting payments from overseas to plan and help carry out a terrorist attack in the US.
He admitted four charges and will be sentenced in November.
Papers relating to the case indicate payments amounting to thousands of dollars were funnelled through Ibacstel Electronics Limited, which operated out of an office on the Alexandra Gate Business Park in Tremorfa, Cardiff.
Sujan - who had studied at the University of Glamorgan and owned a house at Rhydyfelin - was one of the directors of the company, which developed websites and set up printers for customers. The company ceased trading in March 2016.
Another of Sujan's companies, based at the same address, was used to buy surveillance equipment.
The FBI documents identify the items of equipment sent by the company as being inconsistent with the aims of the business.
An agreed statement of facts in the case said, between March and June 2015, "Elshinawy began receiving quantities of cash from a foreign company based in Wales… to be used to fund a terrorist attack in the United States.
"The primary business of this company… consisted of the provision of IT-related products and services.
"The owner of the UK company… was a national of Bangladesh who left his residence in the UK in July 2014 to travel to Syria, through Turkey, to join ISIS and assist in its development of weaponized drone technology."
There is no suggestion any other company personnel or linked companies with similar names were involved in any wrongdoing.
On the day Sujan was killed in Syria, one of his fellow directors was arrested by anti-terror police in the UK. His Newport home was searched and items were seized.
He was bailed pending further inquiries but has since been released without charge.
According to the FBI documents, he strongly denied any wrongdoing.
A statement from Greater Manchester Police said of the man: "As part of a north-west counter terrorism operation in December 2015, a 26-year-old man was arrested.
"He has since been released without charge."