Wales bank holiday rail passengers urged to 'plan head'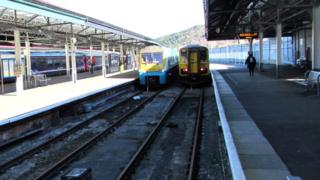 Rail passengers have been urged to plan ahead before they travel over the bank holiday weekend due to modernisation works in Cardiff.
Services between Newport and Cardiff will be reduced until 3 September, with replacement buses running from Saturday until 13:00 BST on Monday.
London services start at Newport and will be diverted via Patchway instead of Bristol Parkway until 15 September.
Rail authorities said the works were a "key part" of electrification upgrades.
Network Rail said services would continue to run between Swansea and Cardiff over the bank holiday.
Lynne Milligan, customer services director at Arriva Trains Wales, said: "We will be working closely with our partners in Network Rail to ensure our customers experience as little disruption to their journeys as possible while this essential work goes ahead.
"All customers should look to plan ahead before travel so they are aware whether there is an impact on their journey."
Network Rail is working to deliver electrification between London and Cardiff by December 2018.
The UK government announced in July that plans to electrify the Great Western Railway line between Cardiff and Swansea had been scrapped.
Improvements at Bristol, which allow new trains to run, launched last weekend and will continue until 15 September.
Network Rail said engineers would be working "day and night" over the bank holiday to continue preparations between London and Cardiff for the overhead wires and posts needed to power trains running on electricity.
This includes demolishing one half of Splott Road bridge, which is currently closed to traffic until 4 September, and raising Adamsdown footbridge, known as "Black Bridge", which will be closed over the bank holiday weekend.