Flu vaccine to be rolled out to all primary school children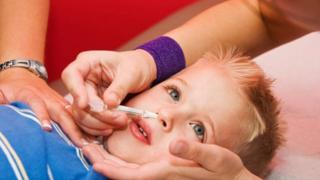 All children in Wales will be offered the flu vaccine at primary school within two years, it has been confirmed.
At present, it is available in primary school only to children aged four to seven (reception to year three).
The Welsh Government announced the move as Public Health Wales published its annual report Seasonal Influenza in Wales.
Vaccinations for children in year four will start next month.
Almost a quarter of people in Wales received a flu vaccine in the past year, the report said.
Public Health Minister Rebecca Evans said evidence from vaccinating younger children elsewhere in the UK showed it could have a "significant impact" on preventing the spread of the flu virus.
She will meet medical and other bodies next months to agree the arrangements.
The report said vaccine uptake for children aged four to seven in school has increased to 67%.
It said there were 49 reported outbreaks in care homes and hospital settings.
And 77% of pregnant women were given the vaccine.
Ms Evans said the vaccine target for people aged under 65 in at risk groups would be cut from 75% to a more "realistic" 55%.
"Flu vaccine uptake in Wales continues to be amongst the best in Europe and it is a tribute to the hard work of NHS staff involved in delivery of the flu vaccination programme that the number of vulnerable people choosing to have the flu vaccine is growing," she said.
"However, we are still below where we would like to be in some at risk groups."