Owen Sheers urges English literature core subject change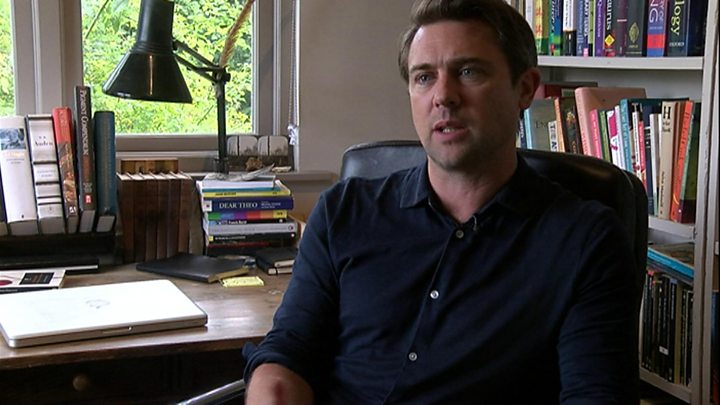 One of Wales' leading poets and authors wants GCSE English literature to be reinstated as one of the core subjects schools are judged on in Wales.
The number of pupils taking the exam have halved in 12 months, which Owen Sheers said it was "very worrying".
Some teachers and parents have also claimed it is not being taught properly in some areas because it is not a core subject.
The Welsh Government said a review of teaching literature would take place.
Schools in Wales must teach English language and English literature but teachers decide whether pupils take the latter at GCSE.
Figures from the Office of Qualifications and Examinations Regulation (Ofqual) showed 16,780 students sat GCSE English literature in Wales in 2017, while in 2016, the figure was 30,100.
"I think it's very, very worrying that English literature isn't a core measure and what does that say about how we value literature?" Mr Sheers said.
"What is education? It's not just to prepare children for the world of work, it's about developing rounded citizens.
"If it isn't a core measure, how do we know that it is being taught in depth, and how do we know that everyone is having the opportunity to access these wonderful texts? We simply don't.
"I very much hope it will be reinstated as a core measure."
In comes as other optional subjects have also seen falls in GCSE take-up, with the number of pupils taking French down 10.9% and German 30.8%.
'Pupils suffer'
Rajvi Glasbrook Griffith, an assistant head teacher in Newport and writer, said the situation was a result of the target-driven education system.
"Schools have done what they have to do because they are under pressure," she said.
"The Welsh Government perhaps hasn't realised the unintentional consequences of performance data measured in this way.
"But who suffers - the pupils.
"Many schools have culled English literature all together, in some schools only top sets have been entered where they're guaranteed of getting a certain grade but the grade shouldn't be the determining factor."
'Listening to concerns'
The Welsh Government said it was "listening to concerns" that some schools may not be meeting their requirements.
Welsh schools are measured on other key GCSE subjects. This year a new compulsory English language GCSE was introduced.
It focuses on functional English - punctuation, spelling and grammar to prepare young people for employment.
A Welsh Government spokesman said: "We are listening to concerns that some schools may not be meeting the requirements of the English or Welsh programme of study in teaching literature to all.
"That is why we will be asking Estyn to review school practice in the teaching of literature at both Key Stage 3 and 4.
"It is essential that all schools fully meet the requirements of the statutory curriculum."