Death registration times increasing in Wales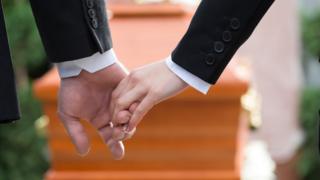 Bereaved families in Wales are having to wait longer to arrange funerals as figures show the time between death and registration is getting longer.
General Register Office data shows death registration times in almost all Welsh counties have increased in the five years to 2016.
Increased demand, more deaths referred to coroners and delays in obtaining paperwork have been blamed for delays.
The Local Government Association said it was working on reducing the time.
All deaths, except those that need investigating by a coroner, must be registered with the local authority within five days by law.
The LGA - which represents English and Welsh councils - said the delays were due to external reasons such as increased demand in appointments, deaths being referred to coroners and delays in obtaining the necessary paperwork from the certifying doctor or coroner.
In Wales, the longest delays were in Neath Port Talbot and Wrexham, with just six out of 10 deaths registered within five days in 2016.
That was compared with eight out of 10 in 2011.
Neath Port Talbot council said it "strives to provide a responsive service" and it had raised the issue of delays with GPs, the coroner, the health board and pathologists.
The only Welsh area where registration times improved was Anglesey, with a rise from 84.8% to 87%.
Across England and Wales in 2011, 77% of deaths were registered within five days. By 2016, that had fallen to just 64%.