New pay deal for paramedics in Wales agreed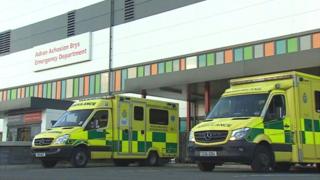 A new pay deal for paramedics in Wales, which recognises additional skills and experience, has been announced by Health Secretary Vaughan Gething.
He said the paramedic role had "fundamentally changed" over time.
The new banding, announced late last year for the NHS in England, has been hailed as "landmark" by unions.
The Welsh Ambulance Service said it would allow patients to receive "even better care, in many cases closer to home".
The decision potentially gives paramedics a pay increase of up to £13,500 as they progress from the existing band 5 to the new band 6.
There are around 840 paramedics at band 5 in Wales.
The Welsh Government said it would know more about how many would move to band 6 after letters were issued to staff.
As part of the deal, support and training will be put in place to help staff gain the extra skills needed for the role.
Richard Lee, director of operations, added: "It also recognises the skills of our staff as the paramedic role develops into the 21st century, not only providing treatment for those in need of urgent care but also assessing patients with less urgent needs who need help accessing the right part of the health system."
GMB union branch secretary Nathan Holman said: "This not only rewards the past but also looks to develop the future of paramedicine."
The Welsh Government added: "This isn't about a pay rise, its about up-skilling the existing workforce, recognising the complexities of their role and the additional responsibilities and knowledge needed by paramedics to carry out increasing amounts of clinical work."
Changes will take effect from 1 October.