Prince Charles is longest-serving Prince of Wales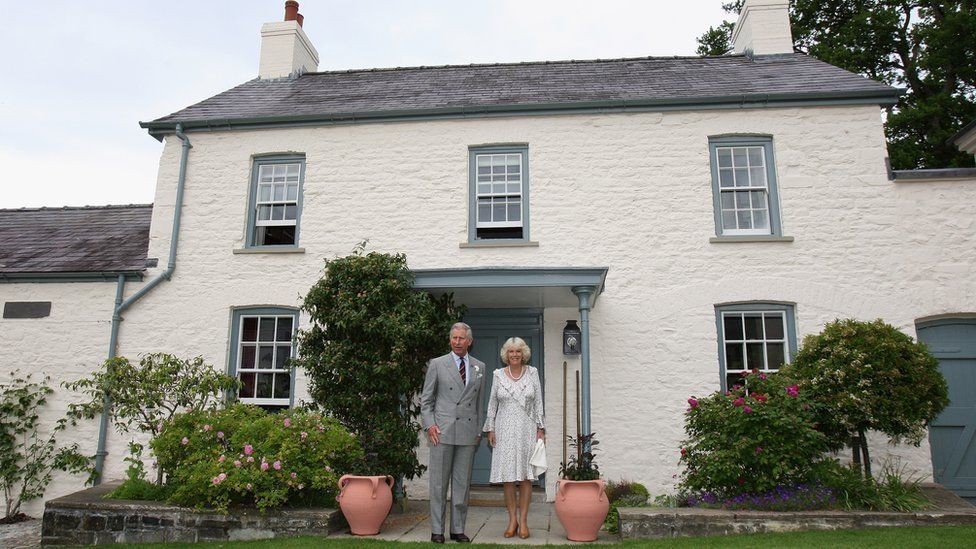 Prince Charles has become the longest-serving Prince of Wales in history.
On Saturday he took the record from Edward VII who held the title for more than 59 years before becoming king.
From Prince Charles' 1969 investiture at Caernarfon Castle to the 2006 purchase of his official Welsh home in Carmarthenshire, he certainly has a long history with the country.
But while one Welsh historian says his relationship with Wales is "symbolic" another says he has a "vital role".
Prof Peter Stead believes the prince, who has held the title for 59 years, one month and 15 days, has faced both frustration and achievement over the decades.
But he thinks Wales should "delight" in its "rather eccentric" prince.
"On royal visits we escape from the familiarity of political debate and become aware of the entrepreneurs, farmers, designers, scientists, scholars, artists, athletes and musicians that are the essence of the new Wales," he said.
"The remarkable length of Prince Charles's formal association with his principality is one fascinating aspect of decades that have been full of both frustration and achievement."
Clarence House in London may be the official residence of The Prince of Wales, but in 2006 the Duchy of Cornwall bought Llwynywermod, a Welsh home for the prince.
The estate near Myddfai, Llandovery in Carmarthenshire, is used by Prince Charles for meetings, receptions and concerts, and as the base for his several yearly visits to Wales, including the annual week of summer engagements, known as Wales Week.
In 2015, the prince spoke to Wales View magazine about his Welsh home, saying he wanted it to be a "showcase for traditional Welsh craftsmanship, textiles and woodwork, so as to draw attention to the high quality small enterprises, woollen mills, quilt-makers, joiners, stonemasons and metal-workers situated in rural parts of Wales".
And he told the magazine the estate "enables me on various occasions, to be part of the local community around Llandovery.
"Wales has still preserved this wonderful sense of community... some may say this is old-fashioned but to me it is timeless," he added.
He is patron of the local rugby club as well as other organisations in Wales, including the BBC National Orchestra of Wales, Age Cymru and the Welsh Black Cattle Society. He is also colonel of the Welsh Guards and colonel-in-chief of the Queen's Dragoon Guards 'The Welsh Cavalry'.
Rachel Rowlands, co-founder of organic dairy Rachel's Organic has met the prince a number of times and said he was "very passionate about Wales".
She said his visits to the business in Aberystwyth, Ceredigion, had a "significant impact", boosting the morale of employees and upped the profile of the business.
She said: "His royal highness is a very warm and understanding person. He takes time to listen to everyone and shows a genuine interest in their lives and the work they are doing.
"He makes you feel very comfortable in his company and is not afraid to laugh and joke at the appropriate time."
And she was "surprised and delighted" to receive a letter of condolence from him when her mother died in 2009.
"He wrote about how much he had enjoyed meeting her and the important pioneering work of her organic farming practices," she said.
Patricia Lester met the prince in July 2015 when he visited her fashion studio in Abergavenny, Monmouthshire, during a tour of the area.
"I have great admiration for him," she said.
"I don't think any of us could work as hard as he does. It's daunting.
"He asks relevant questions. He's friendly, fun, there's no distancing. He treats you like you're almost family. There was no razzmatazz.
"I think it's amazing how he absorbs all the different businesses and what they're all about.
"He champions craftsmanship... I think he has a passion for Wales and it is genuine."
But she conceded not everyone in Wales shares her enthusiasm: "I think it's mixed. There's people who resent royalty full stop.
"They think they're rich and spoilt which is not the case. Look at the Queen still working and he's technically at retirement age too."
Historian Dr Martin Johnes from Swansea University said the prince's role in Wales had at times been controversial: "Charles has not always had the easiest relationship with Wales," he said.
"It was felt to be a symbol of the oppression and conquest of Wales."
"Things got off to a bad start," Prof Stead agrees.
"At a time of political fervour in Wales there was something ludicrous about the ceremony staged at Caernarfon Castle.
"That was followed by unimaginative politicians forcing the prince to learn Welsh at Aberystwyth - an exercise for which there would not have been many native volunteers - and straight-jacketing him in to their own concept of Welshness.
"It remains to his eternal credit that he didn't walk away from the job at hand as several of his immediate predecessors in the job would certainly have done."
Dr Johnes does not view the prince as a Welsh figure: "There have been moments, notably in learning some Welsh before his investiture, when Charles has tried to cultivate his position within Wales, but his relationship with the nation has remained rather symbolic.
"His marriage to Diana did rekindle some Welsh enthusiasm for the position of Prince of Wales but gradually interest in royalty in Wales and the UK as a whole has faded, especially amongst younger generations.
"Charles is very much a British figure rather than a Welsh one."
But Prof Stead said the prince offered an opportunity for Wales: "His disastrous and totally misconceived first marriage [to Diana] brought his mother's reign to its lowest ebb.
"A second marriage allowed Charles to become a more relaxed, pleasant and useful royal.
"Charles, I believe, is ideally suited to the task of helping us to break out of the box-like rigidity that can overtake the politics of a small nation.
"We should delight in the fact that we have a Prince of Wales and work with him to build a Wales that promises to be more interesting than the one we often project."
History of the Prince of Wales title
In 1301 Edward of Caernarfon, the future Edward II, was invested as Prince of Wales - this was the first time the eldest son of the King of England had been bestowed the title.
Since then, only one native Welshman, Owain Glyndwr has had a claim to the title, and was proclaimed as such in 1400.
His armed revolt was defeated in 1409 and marked the end of native princes for good. Since then the eldest son of the reigning monarch has been made Prince of Wales.
The title is not automatic and has to be created each time by the reigning monarch. It is not an hereditary title.
Prince Charles is the 21st Prince of Wales in the current line.
The previous longest-serving holder of the title was Edward VII. The then Albert Edward was created Prince of Wales on 8 Dec 1841 when he was just one month old old. He acceded to the throne as Edward VII on 22 Jan 1901, meaning he served as Prince of Wales for 59 years, one month and 14 day.
Prince Charles was created Prince of Wales when he was nine years old on 26 July 1958. He has now held the title for 59 years, one month and 15 days. He was not invested at Caernarfon Castle in Gwynedd until 1 July 1969, aged 20.
Prince Charles is also the longest-serving heir apparent in British history.