£8bn Cardiff tidal lagoon power deal 'agreed'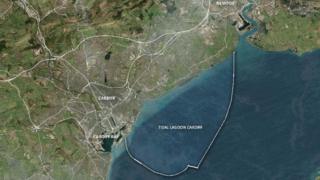 The firm wanting to build a £1.3bn tidal lagoon in Swansea said it has reached an agreement with the National Grid over plans to build an £8bn lagoon around Cardiff.
Tidal Lagoon Power (TLP) claims the new project would power every home in Wales and generate cheap electricity.
But the UK government is yet to approve the Swansea deal which would be the catalyst for the Cardiff scheme.
It has not yet agreed how much it will pay for the energy produced.
TLP said the Swansea project would cost £89.90 per mega-watt hour (MWh) of electricity delivered to the grid for its entire 90-year lifespan.
The Cardiff follow-up project costs would be £60-£70/MWh, as it benefits from lower supply-chain costs, it added.
The UK government is still considering the findings of its commissioned Hendry review - by former energy minister Charles Hendry - which backed the plans.
It was published in January and there were claims in July the Swansea lagoon was in "danger of not happening" because investor funding was only available until Christmas.
There has also been a row over the impact of the project on fish.
TLP chief executive Mark Shorrock said: "While we await the government's response to this offer and to the independent Hendry review of tidal lagoons, we have continued our development work on the subsequent programme.
"We have secured the grid connection for a tidal power station equal in installed capacity to [nuclear power plant] Hinkley Point C."
Phil Sheppard, National Grid's director of UK system operator, said: "We have worked alongside tidal lagoon developers to gain an understanding of the operational characteristics of the proposed lagoons.
"This infrastructure project will have a significant impact as we move towards an increasingly low carbon electricity network."