Five on £40,000 Artes Mundi 8 prize shortlist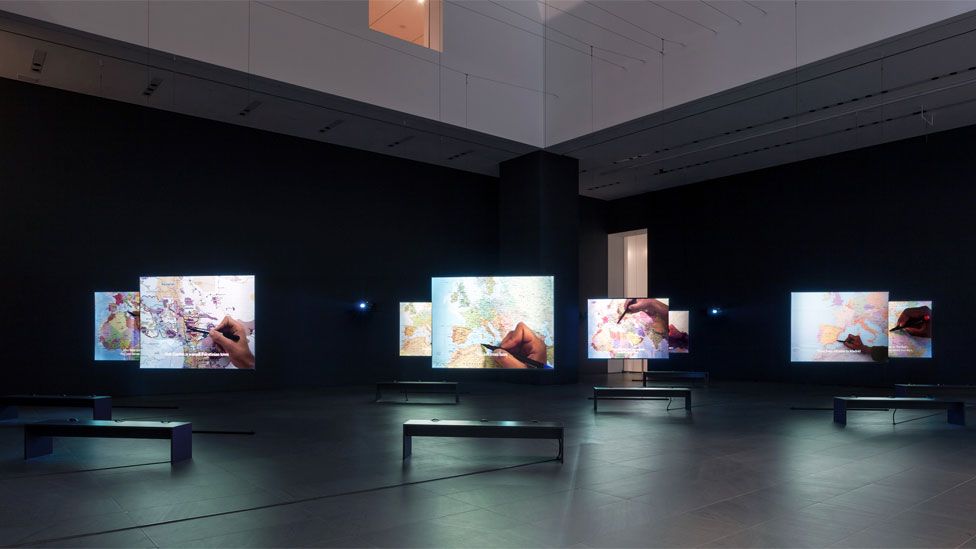 The shortlist of international artists for the eighth Artes Mundi prize has been unveiled.
The £40,000 prize will be awarded in January 2019 to coincide with an exhibition at National Museum Cardiff.
The three women and two men include film-makers, sculptors and video installation artists.
Karen MacKinnon, Artes Mundi's director and curator, said: "Through their diverse practices they consider urgent themes".
There are no UK artists chosen this time from the 450 nominations spanning 86 countries. The biannual prize was first awarded in 2002.
Anna Boghiguian (Canada/Egypt)
An Armenian artist who has worked in different cities, documenting urban environments, often mixing text, drawing, images and collected photographs with "deeply personal and political studies of everyday life".
Bouchra Khalili (Morocco/Berlin)
Living and working in Berlin and Oslo and working with film, video, installation, photography and prints, Khalili explores issues including resistance and the stories of political minorities.
Otobong Nkanga (Nigeria/Belgium)
A visual artist whose drawings, installations, photographs and sculptures explore her ideas around land, landscape and natural resources.
Artist whose multi-disciplinary work ranges from sculpture, investigative journalism to engineering, with subject matter including investigations of mass surveillance and data collection. One of his artworks was launched into distant orbit around the Earth in 2012. He is also author of five books on subjects including experimental geography to state secrecy.
Apichatpong Weerasethakul (Thailand)
He has been making film and video shorts for more than 20 years and has two prizes from the Cannes Film Festival. His "psychologically charged and dreamlike" works deal with memory, personal politics and social issues.
Ms MacKinnon said: "The ebb and flow of their ideas, the different perspectives and terms of engagement, suggest we are in for an extraordinary Artes Mundi 8."
One of the shortlist selectors Nick Aikens, a curator at the Van Abbemuseum in Eindhoven, said "Artistic practice, at its most compelling and enriching, allows us to see the world and our place within it from new perspectives.
"Each of the five shortlisted artists has consistently done this by pushing the varied media within which they work."
Artes Mundi 8 will run from 27 October 2018 to 24 February 2019 at National Museum Wales.
Related Internet Links
The BBC is not responsible for the content of external sites.