Tata Steel UK's pensions deal approved by regulator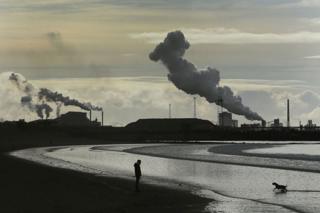 Steel firm Tata's bid to separate its UK pension scheme from the business has been approved by the pensions regulator.
The £15bn British Steel Pension Scheme (BSPS) has been a significant barrier to any potential merger between Tata and German steel producer ThyssenKrupp.
The deal affects thousands of current and former workers, with 130,000 members across the UK.
All members of the BSPS will now be invited to transfer to a new scheme.
It would have lower future annual increases for pensioners and deferred members than the BSPS.
The agreement follows a deal between unions and the company which will also see reduced benefits for current employees.
Tata Steel UK has offered to pay £550m into the now-closed pension scheme and give the fund a 33% stake in its UK business, but it will no longer have any responsibility for the pension scheme.
Koushik Chatterjee, Tata Steel's group executive director, said of the agreement: "Although much work is still needed to ensure the business is competitive in future, the next step in this pensions process involves necessary formalities to set up the new scheme with a lower risk profile following the necessary member consent process led by the trustee.
"This will take some time to implement given the wide membership base of the scheme."
About 8,000 people are employed by Tata Steel across England and Wales, including 3,500 in Port Talbot.