Woollen mills' days are numbered in Wales, owner fears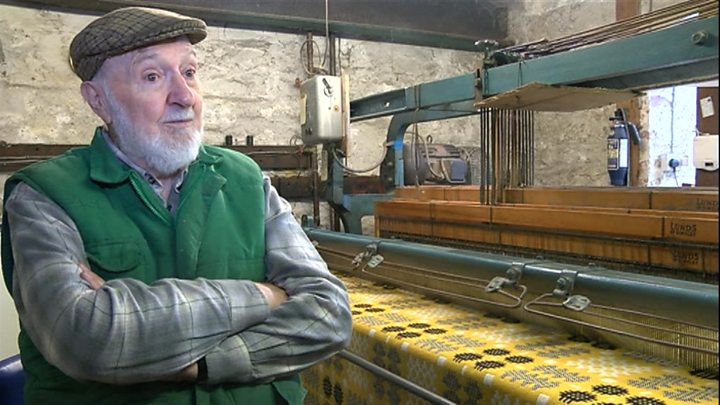 Welsh woollen mills' "days are numbered" unless there is radical change in the industry, a Carmarthenshire mill owner has warned.
Mike Tolputt, 85, said he was concerned the next generation lacked the skills and financial means to take over when ageing mill owners retire.
He owns one of the country's eight remaining mills, Elvet in Cynwyl Elfed.
But other mill owners reported a "Welsh textile revival" with plans for weaver apprenticeships under way.
The woollen industry was once the most widespread industry in Wales.
In 1926 there were 217 mills spread across every Welsh county, according to the National Wool Museum.
But Mr Tolputt said: "Unless there's a radical change, I think the days are numbered.
"So many of the owners are approaching retirement age and I don't see many people rushing to take these businesses on.
"There possibly are young people but its whether they have the skill set and the capital to purchase."
Eifion Griffiths owns Melin Tregwynt in Granston, Pembrokeshire, with his wife Amanda.
He agreed it was "difficult to see the industry carrying on as it is for the next 50 years" but said demand for Welsh tapestry was increasing.
Consumers care more about the "story" and heritage behind products and a weak pound has boosted overseas sales, he said.
Anna Grime, who owns Solva Woollen Mill in Middle Mill, Pembrokeshire, with her husband Tom said she had seen "a big Welsh textile revival over the past 12 to 18 months".
"People are much more interested in the provenance of things [and there's] an interest in sourcing things locally, made in UK," she said.
Several of the mills said they had been selling more blankets to customers in Japan.
Meanwhile, trend forecaster Scarlet Opus said Welsh blankets were a trend for 2017 and had been increasingly popular since 2015.
Jane Beck runs a shop selling Welsh blankets from her tin shed shop in Tregaron, Ceredigion.
"Demand is huge. Over the last six or seven years the demand has far outstripped supply," she said.
"12 years ago I was selling them for about £65, now it's nearer £300."
Ms Beck's blankets have been featured in magazines, theatre productions and TV programmes and she said she once provided Nato with one to present to former US President Barack Obama.
Calvin Jones, professor of economics at the Cardiff Business School, is optimistic for the future: "They are important and eminently saveable.
"In a way the smallness of the industry, its cultural heritage and its generally high-value products provide more opportunities than for other former Welsh industries."
Raymond Jones, 72, started Melin Teifi in Felindre, Llandysul, in Ceredigion with his wife Diane in 1981.
He has a contract to provide blankets to Prince Charles' Highgrove shops and sees a bright future for the industry: "There was quite a depression in the Welsh woollen industry about 15 years ago but the Welsh woollen industry is back in fashion now... there's more work around than there has been for years.
"The main problem for the future is we don't have any trained staff or anyone coming into it… we need to get more people into it really."
His mill is next door to the National Wool Museum, which is housed in the former Cambrian Mills.
The museum's manager Ann Whittall said she "hatched a plan" with Melin Tregwynt, Melin Teifi and Cambrian Mountain Wool to launch four two-year apprenticeship places in 2018.
"Hopefully they'll develop the skills so if they want to [they can] go off and offer their services to an existing mill, set up their own micro mill or go into the heritage industry," she said.
How it would be funded was the "million-dollar question" she said, but she is working with the museum's development department to find potential funders.
The museum said it had a "ballpark figure in mind" for this cost, which is in development.
But some mill owners were unsure apprenticeships were the answer.
Mrs Grime said: "Apprenticeships are really difficult for a small businesses.
"You make the investment and they leave and go somewhere else. It's a tricky issue."
Mr Tolputt added: "We're not really equipped for employing people. The age of the machinery means we run into problems with health and safety.
"To employ somebody I need to have a rest room away from their place of work and I have to have a toilet.
"I'm right on a river bank so there's restrictions over what I can do for a toilet... I'm too far away from the public sewer... until I solve this problem I can't employ people."
Textile designer Llio James runs the woven textiles course for Carmarthen School of Arts at Coleg Sir Gar.
She said 17 students graduated from the course every year, about half of whom specialised in weaving.
"It would make perfect sense for them to go and work in the industry but there's no scheme set up," she said.
"The mill owners need to be open to these changes and open to train them up - some mill owners just aren't interested [so] the mills are going to die at the end of the day.
"We're literally talking about the next few years - there's no time to mess around."
Mr Tolputt remains concerned for the future: "When I look around at my colleagues they're all approaching retirement age - that magic 65.
"The inevitable will happen one day - we won't open the door to the mill, then what? I wish I had a crystal ball to try and look into the future.
He said his career had given him great pleasure and it would suit the right type of person.
"Amongst the weavers I know there's enthusiasm for their work that drives them on. It gives them great pleasure, its something that keeps them going.
"If you think you can take on a mill, make a fortune, own a yacht and got to Barbados for your holiday, forget it, you're not the right kind of person.
"But if you're interested in craft work and take a pride in what you do and enjoyment from seeing the reaction of your customer then you stand a chance."