Roald Dahl: Author's legacy 'wiped out' by Wales, expert says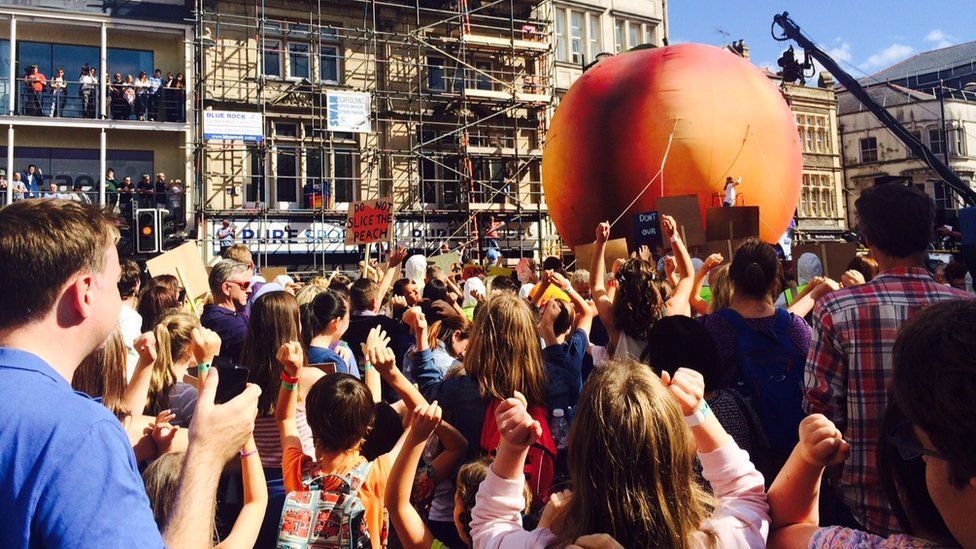 Wales has failed to capitalise on being the birth place of world-famous children's author Roald Dahl, a leading Welsh writer has said.
On the anniversary of Dahl's birth, the former Literature Wales chief executive said the writer's link to Wales had been "wiped out".
The Welsh Government said there were many dedications to him across Cardiff.
The James and the Giant Peach, BFG and The Twits author has sold an estimated 250 million books worldwide - while works such as Willy Wonka and the Chocolate Factory and The Witches have been made into films.
Peter Finch, a Cardiff-based poet, critic and author, said visitors had nowhere to go to learn about Dahl, who was born in the Cardiff suburb of Llandaff, when they came to Wales.
"Dahl is one of the few figures we have in Wales whose name means something outside of the country," he said.
"Everybody knows of Dylan Thomas and his association with Swansea, everybody knows of Roald Dahl, but few know of his association with Cardiff and that's the connection that we need to underline and keep underlining because it will benefit tourism into Cardiff, it will benefit tourism into Wales."
Wednesday has been designated Roald Dahl day, marking his birthday in 1916, and Mr Finch said the success of last year's festival, where a giant peach was paraded through Cardiff's city centre, had "dissolved".
"We've moved 12 months on and there's nothing there, or little there, for the visitor to come and find," he said.
Mr Finch said while the once-a-year events were always a success, apart from some plaques on buildings associated with Dahl there was nothing else to celebrate the author's Welsh links.
To mark Roald Dahl day, giant Lego figures have been unveiled at landmarks around the UK.
A statue of Charlie, from Charlie and the Chocolate Factory, is at Manchester Central Library, Sophie, from The BFG, is at Giant's Causeway and James, from James and the Giant Peach, is at Cardiff Castle.
Dahl's Cardiff connection
Born during World War One on 13 September 1916 in Llandaff. His Norwegian father Harald was a ship broker and he was named after polar explorer Roald Amundsen
The family moved to live in Radyr - a house called Ty Mynydd - in 1918
He went to school in Llandaff until 1925, before leaving Wales for boarding school
A blue plaque now marks the former sweet shop in Llandaff, where Dahl and his friends played a trick on the miserable owner Mrs Pratchett, by putting a mouse in a jar of gobstoppers
Mr Finch said Cardiff council needed to open a Roald Dahl centre in a bid to draw fans of the author to the Welsh capital
"If you're a visitor and you come to Cardiff and you want to find something out about Dahl the man, what artefacts are there?" he said.
"What can you go and look at? Where can you go and look at first editions or the objects associated with him?
"We've done in Wales what we always do, we've just wiped it out. "
Mr Finch said many in the literary establishment establishment thought of Dahl as a Norwegian or an English writer, not a Welsh writer.
He said: "I think it's probably wrong to dismiss him as nothing to do with Wales, he was born here he spent a decade or more of his life here. I think we should capitalise much more than we have."
The Welsh Government said there were many permanent dedications to Roald Dahl across Cardiff and the year-long celebration in 2016 "firmly established" Wales as his country of birth.
A spokesman added: "The Roald Dahl Day also gives further scope to capitalise on the interest in Roald Dahl and in the long term we would be happy to consider support for any other legacy projects from the private or public sector in conjunction with the Roald Dahl Estate."