Wales' unemployment rate drops below UK figure
Unemployment in Wales has fallen below UK levels again, according to latest figures from the Office for National Statistics.
The rate of unemployment in Wales between June and August was 4% while in the UK as a whole it remained 4.3%.
This is the lowest rate since records began for Wales, 25 years ago.
Unemployment in Wales is now 11,000 lower than between March and May and 5,000 lower than a year ago.
Between June and August, Wales experienced the second biggest fall in unemployment after the West Midlands.
However, because Wales has such a high level of people who are described as inactive - not working but not available to work - Wales has one of the lowest levels of employment.
Only the north east of England and Northern Ireland have a lower proportion of people of working age who are employed.
Welsh Secretary Alun Cairns said more needed to be done to increase the rate of employment.
"I'm convinced that increasing exports to new markets will not only grow the Welsh economy but will create jobs across Wales," he said. "I'm doing everything I can to help companies in Wales maximise their exporting potential."
First Minister Carwyn Jones said: "We are continuing to work hard to grow and build resilience within Wales' economy and today we are launching the Development Bank of Wales - the first of its kind in the UK".
A quarter of people between 16 and 64 are economically inactive in Wales because they are sick, caring for someone or a student. Only in Northern Ireland is the rate higher.
CAN WE REDUCE UNEMPLOYMENT ANY MORE?
Sebastian Burnside, senior economist at Nat West, said Wales did not have to worry about running out of people quite as quickly as other parts of the UK.
"There has been strong job creation in Wales but the headline unemployment number probably overstates the strength of the labour market because we have a lot of people who are inactive," he said.
That rate in Wales is around 23% of working age people. When you exclude students, it is around 20.7% and is highest in the south east Wales valleys.
"They're not in work but not actively seeking jobs either," said Mr Burnside.
"Tackling that part of the population, helping those people find work that suits them - for whatever their personal circumstances are - would allow Wales's job creation run to continue for a good while yet rather than run out of people to be employed."
He said many people thought the UK was edging towards full employment - a level of unemployment that the economy could reasonably sustain in the long run.
"You see far more flow in and out of unemployment," he said. "We have about 1.5m across the UK who are unemployed but every quarter around 500,000 of those people will find jobs but are replaced by other people coming out of work or newly seeking work.
"So the level of unemployment changes less than the movement in and out of it - there's much more churn than you might expect."
Mr Burnside said people were less likely to spend a long time out of work but there was still a warning that productivity needed to be tackled.
"One of the features of the way the UK has grown over the last 10 years is we've expanded largely by getting more people producing in the economy rather than getting each of those people to produce more," he added.
"That's why real wages have performed so poorly. The economy has got bigger by getting more people into the workplace. That can't continue. In the UK, as we move towards full employment, the onus starts to ramp up on firms to try and get more out of their existing workforce rather than always looking to expand just by hiring an another person."
He said there were "no quick fixes" but companies needed to invest in technology and the latest equipment while the UK needed better connected infrastructure.
Read more from Sarah: Most councils are paying less than the real living wage.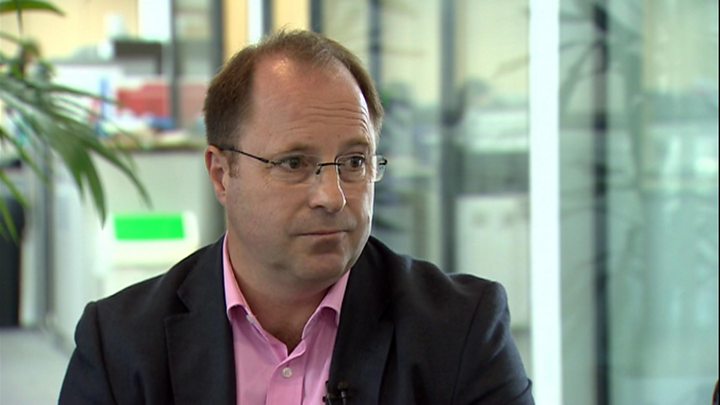 WHAT ABOUT THE LONGER TERM UNEMPLOYED?
There are questions about the system which is designed to make sure people are actively looking for work.
But it can also mean pressure within the recruitment process, with firms receiving literally thousands of applications from people who may or may not have relevant skills.
This was recently highlighted in one of Cardiff's poorest areas - which sees those looking for work having to prove they spend a full working day applying for jobs. to qualify for benefit, such as Universal Credit.
Job Centre Plus has said the expectation is unemployed people "do what they reasonably can to look for work".
But south Wales-founded Acorn Recruitment - which sifts through applications for employers - said perhaps 10% it saw were from people who had no realistic hopes of a job.
It is part of a process of job-seekers putting in anything between 15 or 20 applications a day.
"At a policy level that needs to be dealt with: it doesn't help them, it doesn't help employers and it doesn't help the economy," said Dan Langford, marketing director.