Teachers' pocket guide to cut workload in Wales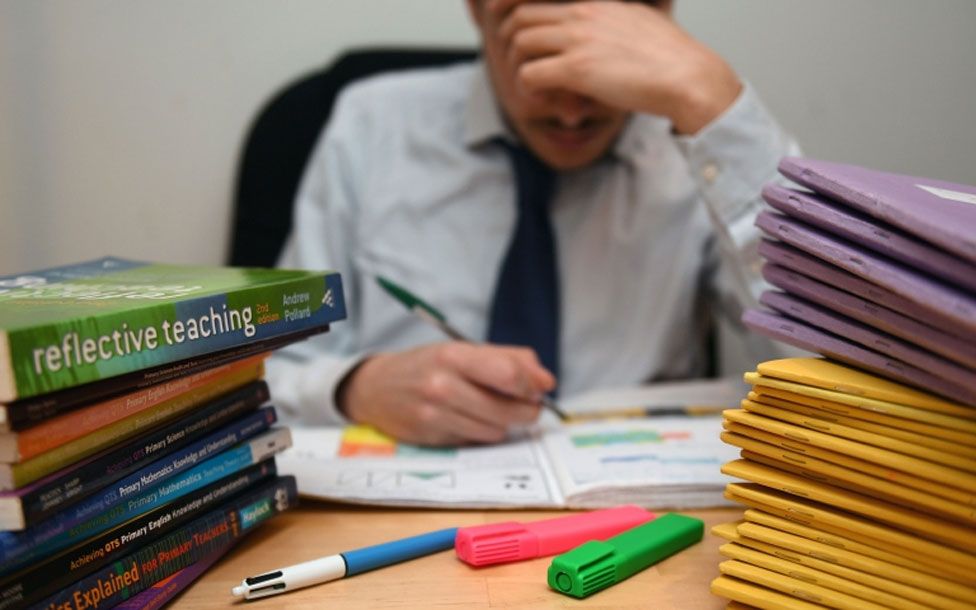 Schools are being issued with "do" and "do not" guidance for the classroom in a bid to cut teacher workloads.
It includes advice on marking, how to avoid "box-ticking" lesson plans and giving "meaningful" feedback to pupils.
The guide has been agreed with unions, Welsh Government and inspectors Estyn.
Meanwhile, £1.28m will create school business managers in 11 areas to help heads with finance and administration.
The guidance is being issued in 40,000 pocket guides for teachers and on 3,000 posters for staff rooms, as well as online.
Education Secretary Kirsty Williams, who launched it at Palmerston Primary School in Barry, said: "We are determined to give teachers more time to do what they do best: planning and teaching the best possible lessons for their pupils.
"Too often I hear how teachers feel hampered by box-ticking exercises which aren't focused on raising standards in our classroom.
"We need to bust some myths on what is required of teachers and be absolutely clear in our guidance."
DO remember that all feedback (including marking) should be timely
DO NOT give marking a disproportionate value in relation to other types of feedback or provide excessive written feedback. This can become a disincentive for pupils to accept challenges and take responsibility for improving their own work
DO give lesson plans the "proportionate status they merit"
DO NOT make excessively detailed daily or weekly plans a routine expectation or create plans that become a "box-ticking" exercise
DO NOT collect data that is not purposeful
Rex Phillips, Wales national officer with teaching union NASUWT, said: "There should now be no misunderstanding on what teachers 'should' and 'should not' do and what the Welsh inspectorate Estyn requires for school inspections."
Rebecca Williams, policy officer of Welsh teaching union Ucac, welcomed the announcement and said it showed the problem was being taken seriously.
"Teachers and head teachers have been valiantly attempting to cope with increasing levels of bureaucracy, thrown at them from all directions, for many years now," she said.
"We have reached a point where the demands are entirely unreasonable and unsustainable. The effect on individuals' health and on the atmosphere and efficiency of schools has been destructive."
Meilyr Rowlands, chief inspector at Estyn, said he hoped the guide would help to "clarify expectations and help teachers focus their time and efforts on what is most important - teaching and learning."
The new business manager positions will be created as two-year pilot projects, initially in 11 council areas - with money from the Welsh Government matched by local authorities.
Ms Williams said they would help free up head teachers and staff to focus on leadership and teaching.
Analysis by Bethan Lewis, BBC Wales education correspondent
Teaching unions have voiced concern about workload for many years.
Over 88% of the respondents said managing the work within their hours was not achievable.
And it is seen as a key factor behind recently reported problems in retaining and recruiting staff.
Welcoming any move towards addressing workload and "stopping the madness", one union talks of the "destructive" effect it has on individuals' health and the effectiveness of schools.
A poster and pocket guide is meant to help teachers cut out unnecessary paperwork or marking.
And while schools will welcome recognition by the government and inspectorate that workload is a big issue, some may question the onus placed on individual teachers to change their work practices, rather than focusing on the policies which add to their administrative workload.