Merthyr Tydfil stabbing: Robert Jones detained for attack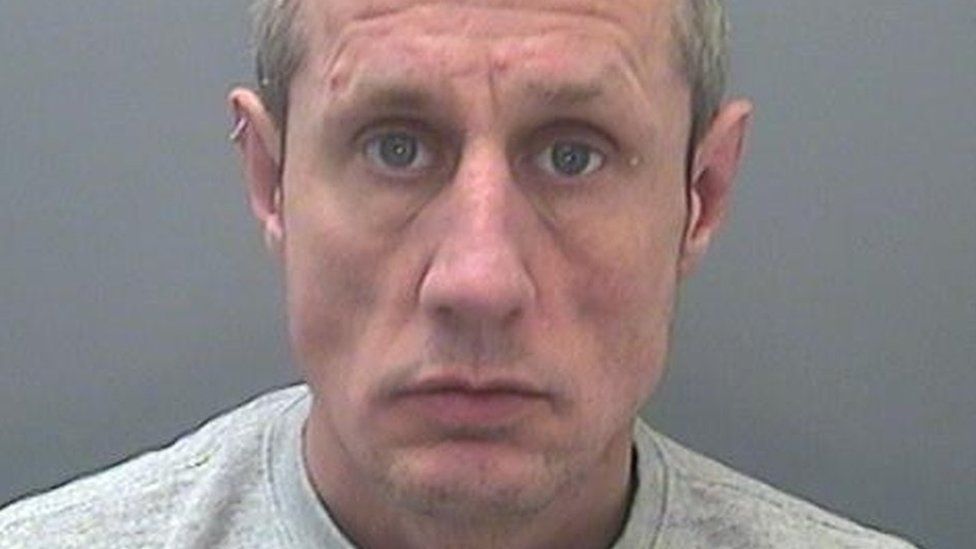 A man with schizophrenia who stabbed his girlfriend's son 18 times has been found guilty of attempted murder and sent to a secure hospital indefinitely.
Robert Jones, 46, blamed voices in his head telling him to attack sleeping Andrew Burvill, 35, of Brecon, Powys.
Jones, of Merthyr Tydfil, denied trying to kill Mr Burvill, who he said he loved as if he was his own son.
Merthyr Tydfil Crown Court heard Mr Burvill was found blood-soaked "like a scene from a horror film" on 21 March.
The jury was told the attack with a kitchen knife was "frenzied" and Jones had been convinced his girlfriend Gaynor Burvill and her family were trying to poison him.
Prosecutor Patrick Harrington QC said: "Jones took a kitchen knife and went to a bedroom where Mr Burvill was sleeping.
"His principle target was his head but he was also stabbed to the back of the neck."
The court heard Mr Burvill's wounds were so severe that paramedics treating him ran out of dressings.
He spent 10 weeks in hospital and still suffers from flashbacks and nightmares.
"He just kept on stabbing and stabbing, he was like a maniac trying to kill me," he told the court.
"It was a shock, there were no motives, there was no reason."
The court heard Jones's face was "expressionless and blank" during the attack and he admitted he was "off his face" after his medication for paranoid schizophrenia was changed.
He told police: "I heard voices for 10 minutes before getting the knife from the kitchen. They were saying: 'Kill him'."
Jones said he was close friends with Mr Burvill, but could not control himself.
"I felt psychotic and angry. I couldn't control my thoughts, I was delusional," he told the court.
"As I was doing it, I realised it was wrong but I just couldn't stop myself."
Jones was given a secure hospital order under the Mental Health Act and judge Nicholas Lavender imposed a restriction which will detain him indefinitely for public safety.