'No change' parking meters make £650,000 in three years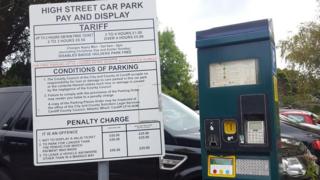 Hundreds of thousands of pounds has been collected by councils in Wales from pay-and-display parking machines that do not give change.
About £650,000 in overpayments was collected in three years by six councils who gave data to the BBC.
Rhondda Cynon Taf had the highest proportion - £142,122 in overpayments out of £2.9m in parking charges.
The TaxPayers' Alliance said it was a stealth tax but councils said money was put back into the transport budget.
Twelve of the 22 councils contacted by BBC Wales in a freedom of information request were unable to provide figures about car parking overpayments and three said they did not operate meters. Newport council did not respond.
Between 2014-2017, Swansea received £231,000 in overpayments out of £12.2m in parking charges, Carmarthenshire had £146,000 out of £7.7m and Caerphilly had £74,000 out of £1.8m.
Merthyr Tydfil recorded £52,000 from £1.4m and Neath Port Talbot had just £654 out of £2.8m in parking fees.
The TaxPayers' Alliance said many drivers felt they already paid "more than enough tax and this is a stealth tax".
"Not all of that money is going to go back into car parks and road maintenance because it is not statutory to do so," said Lee Canning, its co-ordinator in Wales.
"I think it's important that all the money made in this way is reinvested in improving car parks."
Councils said it would be more expensive to have machines that gave change and many were now choosing alternative methods, such as online and telephone payments.
But Steve Gooding, director of the RAC Foundation, said that did not help "the significant number of people - not least elderly motorists - who still don't own a mobile".
"Some will say why all the fuss about a few pence here and there, but these numbers soon add up to the point where drivers might reasonably ask whether this isn't more of a money spinner than a means of managing traffic for some councils," he added.
A spokesman for Rhondda Cynon Taf council said: "Any income generated by the council's parking charges is re-invested back into the service area - whether this is to fund the service, or for use in transportation projects and highway schemes."
Swansea council said: "We have been introducing credit and debit card-operated machines at some of our busiest car parks and are currently working to introduce cashless payment by smart phone so people can pay only for the time they purchase by using their cards."
Carmarthenshire road safety and traffic manager John McEvoy said its machines did not give change for security reasons, adding: "Any leftover change taken from car parking machines in any year goes towards maintaining essential services within the council."