New Wales school curriculum overhaul delayed a year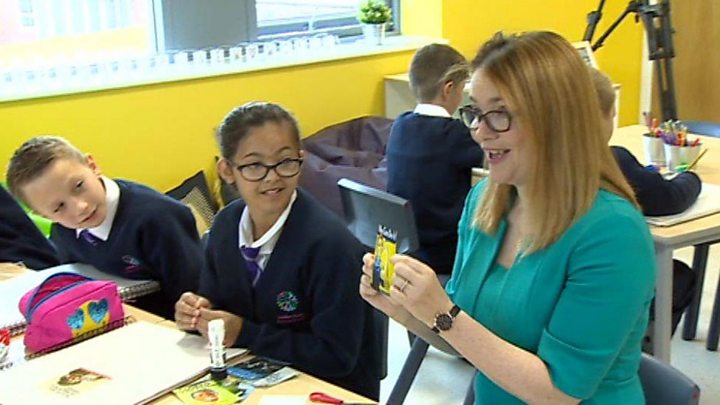 A big shake-up in what is taught in classrooms in Wales will be introduced a year later than originally planned, the education secretary has announced.
Kirsty Williams said it was the right decision for the new national curriculum to be a "phased roll-out rather than a 'big bang'".
The new curriculum will be introduced from nursery to Year 7 in 2022.
Ms Williams has also set out details of a new national education plan.
An independent review more than two years ago recommended a new curriculum, giving more flexibility to schools but also for computer programming and IT skills to be treated with the same importance as literacy and numeracy.
Rather than coming in all at once, the new curriculum will be introduced for all primary school pupils and the first year of secondary school - and then continue to be rolled out as children move through their schooling.
But as a consequence it will mean that seven and eight-year-old children in the current Year 3 and older will miss out on the new curriculum.
When it comes, it will be phased in:
2022: From nursery to Year 7.
2023: Rolling into Year 8
2024: Year 9
2025: Year 10
2026: Year 11
The original timetable had been due to be fully up and running by 2021, with the content available to teachers by 2018.
Earlier this year, an assembly committee said there were difficulties in how the curriculum was being put into practice, while a teaching union had called for it to be delayed.
Ms Williams said she had spoken to teachers, parents and experts and held talks with unions and that all schools would be given more time to get ready, and will be able to start work on the final curriculum from 2020.
"This approach and an extra year will mean all schools have the time to engage with the development of the curriculum and be fully prepared for the changes," she said.
Conservative education spokesman Darren Millar AM welcomed the delay but warned of "major chaos" if teachers were expected to "juggle the demands" of two separate curriculums for a period of about six years.
Plaid Cymru education spokesman Llyr Gruffydd AM said the party had been warning for several months that the new curriculum should not be rushed through.
David Evans, secretary of the new National Education Union Cymru - the merged NUT and ATL - said there was a "true consensus" behind the new curriculum while Rebecca Williams, policy officer for teaching union Ucac, said the action plan "strikes a refreshing balance between ambition and realism".
Gareth Evans, director of education policy at the Institute of Education at University of Wales Trinity Saint David, said: "The original timetable for implementation always looked ambitious.
"It is far better to take our time and get Successful Futures right, than force it through and get it wrong - the consequences of doing so are unthinkable."
Ms Williams also set out a new national education action plan.
It includes:
Reducing class sizes - a long-held policy objective of her party, the Welsh Liberal Democrats
Reforming teacher training
Strengthening support for learners with additional learning needs
A national approach to long-term career development for teachers
Reducing unnecessary bureaucracy for teachers
£1.1bn to upgrade the quality of school buildings
The document also confirms the government target of achieving a score of 500 in the international Pisa tests by 2021, an aim which Ms Williams had said was "not my target" earlier this year.
First Minister Carwyn Jones subsequently said the target had not been dropped.