Rural scenic artist Aneurin Jones, 87, dies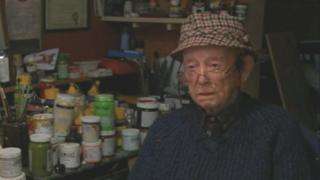 Welsh artist Aneurin Jones has died, aged 87, his family has confirmed.
Mr Jones, from Cardigan, studied fine art in Swansea in the 1950s and later taught the subject in Pembrokeshire.
He was honoured for his service to the arts by the International Rotary organisation in 1978, and received the main art prize at the Machynlleth National Eisteddfod in 1981.
His work often reflected the life of rural Wales, focusing on Welsh farmers and horses.
Some of his works are in public collections of the National Library, Ceredigion Museum and the Museum of Modern Art of Wales in Machynlleth.