Sporty people likely to drink more alcohol, survey finds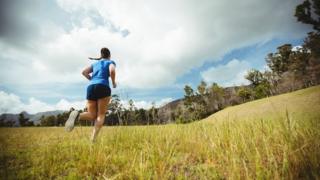 People in Wales who exercise regularly are more likely to drink above the recommended alcohol allowance than those who do no sport, a survey has found.
The National Survey for Wales found 58% of people who exercise three times or more a week drink within the limit.
That is compared to 77% of people who did no exercise.
Dr Britt Hallingberg, of Cardiff University, said it could be down to the social aspect of sport.
"The relationships between sport and alcohol use among older adults might be there for reasons that are different from young people, due to personality and sensation seeking," she told BBC's Good Morning Wales programme.
"Maybe young people who participate in sport are the same people who just go on to drink alcohol anyway."
Dr Hallingberg, who specialises in looking at the relationship between sport and alcohol, added: "Sport helps create social networks, so young people make friends through sports, and then they just happen to go out and engage in alcohol use."
Dr Carwyn Jones, professor of sport ethics at Cardiff Metropolitan University, said it did not help that sporting successes were often celebrated with a binge drinking session.
"It's a form of social capital in sport to be able to hold your drink," he said.
"So, although elite athletes are more fit, it's still a problem in elite sport. We've seen problems with Wayne Rooney, or the All Blacks where, when they're allowed to go out, they binge drink.
"Sport can do its part by changing this perception that alcohol is acceptable, normal and aspirational."
But a paper collating 17 studies, investigating the link between alcohol and sport, concluded 14 of the 17 studies showed taking part in sport actually reduced drug and alcohol use in adolescents and young people.
---
'Born an alcoholic'
Former Wales footballer Christian Roberts, who has struggled with alcohol addiction for most of his life, said the culture within sport when he was playing did not help.
He said: "When I was playing [football] there was a culture - the cases of beer were the most important thing to put on the team bus during away games.
"I was one of those who carried the cases of beer.
"However, as generations have changed sport has changed. It's not alcohol in sport, it's alcohol in society. That's the challenge.
"Sport only represents society. If we challenge it and make it better in society it will make it better in sport."
---
The UK-wide guidelines suggest:
Adults should not drink more than 14 units of alcohol a week - about six pints of standard strength beer/lager or seven 175ml glasses of wine
Alcohol intake of those 14 units should be spread over three or more days
There is no "safe" amount of alcohol to drink during pregnancy
Looking at alcohol use more generally, the survey of 10,000 people found 31% of adults exceeded the recommended guidelines.
But 17% of Welsh adults are non-drinkers, while 15% said they were binge or heavy drinkers.
The survey also found adults who take part in sport three times a week or more were more likely to have healthy lifestyle behaviours than those who exercise less than once a week.
It said a lower proportion of adults who did sport regularly were smokers compared to those who exercised less.
About 45% of people who exercise regularly were a healthy weight, compared to 35% of people who did less sport.