Tenby teenager Lily Rice performs wheelchair backflip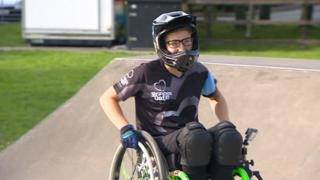 A teenager from Pembrokeshire is thought to have become the first European female to perform a backflip in a wheelchair.
Lily Rice, 13, accomplished the feat in Cardiff after six hours of practicing.
Lily, from Tenby, has a condition called hereditary spastic paraplegia, which causes rigidity and tightness in the muscles of the lower body.
She now hopes to take part in the Wheelchair Motocross Championship in California next year.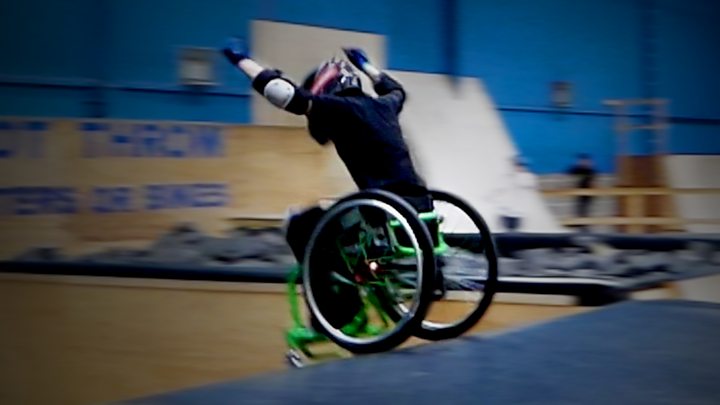 Former Welsh Paralympic swimmer Lily is a WCMX athlete, performing tricks on specially adapted ramps usually used by BMX riders and skateboarders.
While Lily is thought to be the first European woman to complete a WCMX backflip, she is the second worldwide.
"I'd seen lots of people do it and it didn't look too hard, so I wanted to try it out," she said.
"So we found a foam pit and I just practiced it and practiced it and eventually got it in the foam pit.
"Then, I tried it onto [the] ramp and I landed it there."
She was given her first WCMX chair in February by the sport's current champion Aaron "Wheelz" Fotheringham, and has been practicing for the last seven months.
"I was a bit scared [at first] but I was more excited. I was fine with going down banks but I got a bit scared doing the quarters. But after I'd done it once, I was fine," she said.
The second-hand wheelchair was too small and heavy compared to newer models, so Lily crowdfunded money for a new one and secured a sponsor.
The wheelchairs have features like reinforced suspension to cope with the pressures of the sport.
Lily added that she hopes to inspire other teenage girls to take up BMX riding and skateboarding.