Rhys Ifans calls on filmmakers to tell more Welsh stories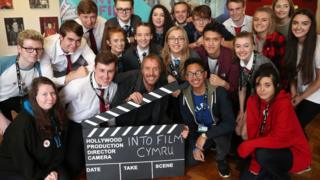 Actor Rhys Ifans has said he would like to see more films made about life in Wales rather than the country just being used as a filming location.
The Twin Town and Notting Hill star said "incredible films and TV shows" were now being made in his homeland.
But he called for revenue to be used to help future generations of filmmakers to tell Welsh stories.
Ruthin-born Ifans spoke at an event in Cardiff aimed at inspiring pupils to take up careers in the film industry.
He said the movie business had "certainly improved" from 20 years ago when he started out, with support from the Welsh Government and large studios set up to attract producers.
"We're seeing some great stuff, certainly people coming to Wales to make incredible films and TV shows," he said.
"My only hope is that, while that's fantastic, the revenue that we get from those will hopefully go into encouraging this generation who I have spoken to today to make films and write films that are inspired by Wales itself and their experience of living in Wales and being Welsh."
Ifans was speaking to 200 pupils at an event organised by the charity Into Film Cymru, which is working to help pupils learn through film and to promote careers in the industry.
He said he was "envious" of the pupils being given such an insight into the business, adding it was showing it was not just for the elite.
Growing up in a small town in north Wales, Ifans said the world of film seemed alien to him - until Theatr Clwyd opened in the neighbouring town of Mold.
"[The theatre] was the first kind of modern structure I had ever seen, " he recalled.
"It was as if a spaceship had landed in the next town and I was introduced to the theatre as a teenager.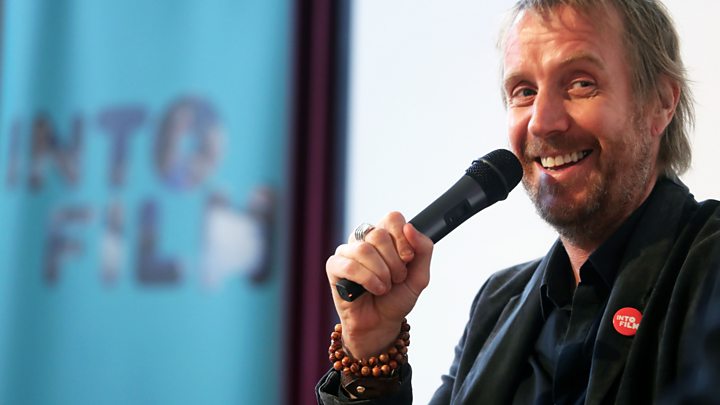 "And in being introduced to the theatre, I got to perform there and work backstage and saw that it was a real, tangible possibility as a career.
"Whereas before, wanting to be an actor on stage or in film, I might as well have wanted to be an astronaut. I might as well have wanted to be the first Welshman on Mars."
He said he was driven to speak to young people about his profession because of his experience at Theatre Clwyd, where he was able to talk to actors and crew members.
"I saw that these people weren't the characters they were playing, they were real, jobbing human beings who had been given these great opportunities," he said.
"And it ceased to be something unreachable and elitist and became something very real that I could do."
Ifans went on to study at the Guildhall School of Music and Drama in London - James Bond actor Daniel Craig was in the year below him and they became friends, while Ewan McGregor and Damian Lewis were also fellow students.
He has starred in numerous films, including Notting Hill, where he played Hugh Grant's hapless housemate Spike, a role that propelled him to fame.
He said he found the "massive response" to the film awe-inspiring but he was left "quite panicked".
He told the audience of schoolchildren at Ysgol Gyfun Gymraeg Plasmawr: "It was an earth-shattering role for me".
The actor also recalled how stepping onto the Harry Potter set to play Xenophilius Lovegood was like "walking into another world."
"There was even a little zoo area full of owls, bats, snakes, unicorns... So if you wanted to have an owl in your scene, they would go and get you one.
"All my friends from Cardiff could come along in a minibus. All my friends with children were invited onto the set to meet Daniel Radcliffe. It was a very special experience."
He was asked how he felt starring in Mr Nice, playing former Welsh drug smuggler Howard Marks, who died last year.
"Howard was an old friend of mine, I knew him well for years before making the film," he added.
"Being able to play someone I knew so well was unique, being able to act one of my friends in film... Of course, now he's no longer with us and I'm so sad about that and I miss him."
Ifans said he had just finished filming a TV series but was coy when asked whether he would be reprising his role as Jeremy Lewis in the planned sequel to cult Welsh film, Twin Town.
"I can't really give anything away right now," he added.
"It's a big secret, it's under lock and key."