Swansea University anti-grooming project to stop paedophiles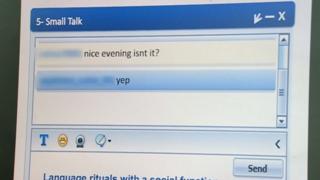 Anti-grooming material to stop children being targeted by paedophiles online is being launched at Swansea University.
Researchers studied the language and methods used by people convicted of internet-related crimes.
Their work started in 2012, driven by a lack of previous insight into the methods of offenders.
The Stop Time Online material will be given to social workers and is being piloted at NSPCC service centres in Swansea, Cardiff and Prestatyn.
In the past five years, 155 people in Wales have been reported to police for meeting a child following grooming.
The Swansea University team studied 200 online groomers' chat logs - with it taking just 20 minutes for a child to be convinced to meet in one case.
Childline was contacted by 85 children in Wales about online sexual abuse last year - contributing to a 24% rise in UK calls.
NSPCC Cymru's Ruth Mullineux called online safety "a major 21st Century child protection issue" and said research and education was "incredibly important" in protecting children.
In 2016-17, the charity delivered 12,248 counselling sessions about online safety and abuse across the UK - a 9% increase on the year before.
Professor of applied linguistics at Swansea University, Nuria Lorenzo-Dus, said: "Online grooming of children is one of the most insidious internet-enabled criminal threats to civil society.
"This project helps to safeguard the digital futures of some of our society's most precious and vulnerable members."