Sunbed legal age ignorance in Wales highlighted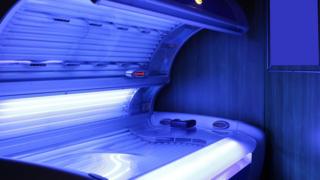 Less than half of adults and a third of children know under 18s are banned from using sunbeds in Wales, an official survey has suggested.
The ban came into force in England and Wales in 2011, with further blocks in Wales on sunbed sales or hire to minors and unsupervised services in salons.
Cancer Research UK said prolonged exposure to UV light can cause cancer.
The Welsh Government said while people could have better knowledge, the duty of care rested with sunbed businesses.
Commissioned by the Welsh Government, the Survey of Sunbed Use in Wales asked 1,000 adults and 300 children, aged 10-16, questions about the tanning aid and was "designed to be representative of the population".
More than a fifth (22%) of adults said they had used a sunbed but 67% said they had not ever wanted to.
Of those who had, 42% said they did it "to look better", 32% to "get a base tan before holiday" and 25% to "feel healthier".
When asked the age at which people are legally allowed to use one in Wales, 47% correctly said 18, while 32% wrongly thought it was 16.
Only 36% of children questioned correctly identified the legal minimum age, with 30% saying it was 16.
The report said: "This may point to a need to raise awareness among younger people of the legal age for using sunbeds. However, as long as sunbed businesses verify the age of customers, it may not be a major concern."
Cancer Research UK said the figures were "not that surprising", given more than a third of young people had not heard of a sunbed and the majority of adults had not used one.
Emma Shields, of the charity, said: "Sunbed users may hope to feel healthier, but research has proven that UV light from sunbeds can damage the DNA in skin cells. Over time this damage builds up and can lead to malignant melanoma, the most dangerous form of skin cancer."
The charity, which runs the SunSmart safety campaign across the UK, said there were about 14,600 cases of skin cancer diagnosed in the UK every year and 770 in Wales - about 25 cases per 100,000 people for both.
Additional charges on the use of sunbeds were among several new possible taxes mooted for introduction by the Welsh Government.
Public Health Wales has said there was "no such thing as a safe tan", sunbeds were "not a safe alternative to sunbathing" and a tan was "not a sign of good health".
Matthew Gass, of the British Association of Dermatologists, said: "Better awareness of these regulations would make it harder for less scrupulous operators to fly under the radar, and might give parents pause for thought when considering home-use tanning machines."