Ken Skates says literature review attacks unacceptable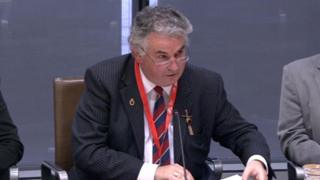 Literature and publishing organisations that receive public money will not be allowed to maintain the status quo, the economy secretary has said.
Ken Skates told the Assembly's culture committee he was still considering what changes to make but insisted the situation could not remain the same.
A review into the sector recommended sweeping changes.
It included transferring many of the responsibilities of Literature Wales to the Welsh Books Council.
Mr Skates told the assembly's culture committee: "Whilst I have made no decision on the recommendations that have been forwarded to me, I certainly think the status quo is no longer acceptable."
Literature Wales received £717,000 from the Welsh Government through the Arts Council of Wales last year to promote literature, while the Welsh Books Council received £3.5m from the government to publish and distribute books.
Professor Medwin Hughes chaired a panel that reviewed the work of both organisations, and assessed the wider sector.
Since the review's conclusions were published in June writers including Phillip Pullman have defended the work of Literature Wales, while its chairman called the review a "dud".
Literature Wales and the Arts Council of Wales have also questioned the accuracy of the report and perceived conflicts of interest among members of the review panel.
'Emotions'
Others, including the Welsh Books Council, have approved its findings.
Mr Skates said he had been "very well served" by the report and defended the panel.
"That vociferous response did not surprise me.
"Whilst I accept that emotions have been running quite high on this, I do not believe that the criticism and - at times - attacks that some of the panel members have had to endure have been acceptable whatsoever."
Mr Skates said he would wait for the publication of the assembly committee's report on the subject before announcing any changes, but that the public funding involved meant the sector had to be "strengthened."
"This is about making sure that we make best use of taxpayers money, that we strengthen the sector, that we serve the interest of the sector and ultimately the interests of the people of Wales."
Last week, Prof Hughes defended the review to assembly members.
He said its findings were based on evidence from key organisations and 800 written submissions.