Las Vegas shooting: Welsh soldiers recall 'chaos'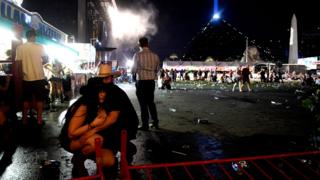 Welsh soldiers caught up in the Las Vegas massacre have told how they ran into the danger zone to rescue victims.
Troopers James Astbury, 22, and Dean Priestley, 28, of the 1st The Queen's Dragoon Guard were at a restaurant when the shooting started.
A young girl and a woman who had been shot in the head were among several casualties the men assisted.
Their bravery was hailed by their commanding officer, who said their heroism should be recognised.
Trooper Astbury, from Ruthin, Denbighshire, and Trooper Priestley, from Kinmel Bay, Conwy county, were enjoying a night out with colleagues when gunman Stephen Paddock opened fire from a suite in the Mandalay Bay Hotel.
The 64-year-old killed 58 and wounded 500 more at a country music festival.
The six off-duty soldiers immediately split up and headed "towards the chaos", Trooper Astbury said.
He added: "Two blokes carried a woman through and laid her on the floor asking for help, so I ran over and held her hand and asked her 'what's wrong?'.
"She had got shot in the face, hitting her in the cheek, and another one in the top of her thigh.
"She had a T-shirt round her leg but she was just holding it there, so I tied it round her leg at the bullet wound to try and stop it bleeding and told her it would be alright and I got her out to an ambulance.
"It was chaos. There were bodies on the path. They were covering them. Then I ran back in to see who else needed help."
Trooper Priestley said he tended to an injured girl with wounds to her arm and a woman who had a gash on her head after being trampled in the rush to escape.
The soldiers' commanding officer, Lt Col Justin Stenhouse, said he was "immensely proud" of his men, who were in Las Vegas for a break following a training exercise with US troops in the Californian desert.
Col Stenhouse said: "These young men showed huge bravery in horrific circumstances. Even in combat on the battlefield you often do not see casualties on this scale.
"They kept cool heads and thought quickly and their personal sacrifices helped countless others. I will be very proud if their bravery is recognised officially."