New north Wales tourism route to attract Japanese visitors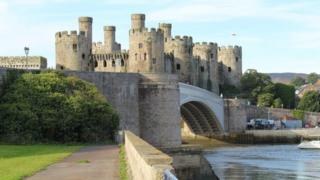 Plans for a new tourism route have been unveiled in north Wales, in a bid to attract Japanese tourists.
The Roads of Castles in Wonderland initiative will tour World Heritage sites and other attractions in the area.
North Wales Tourism said the region had seen an 84% rise in visitors from Japan in the last two years.
Its director Jim Jones said: "Japanese tourists used to by-pass north Wales but not anymore."
The route will start in Newtown and come up through Chirk, Wrexham and Ruthin, before heading to Conwy and Llandudno.
It will then go down the Conwy Valley to the Llyn Peninsula before looping to Caernarfon and Anglesey.
According to Mr Jones, North Wales Tourism has been working closely with the Japanese Association of Travel Agents (JATA) to launch the initiative.
"We have worked hard to promote the region and as a result we have seen a sharp rise in the number of Japanese tourists visiting north Wales," he said.
"One of the main reasons for the dramatic rise in our fortunes as a tourism destination is that north Wales is at the epicentre of the growing adventure holidays market and is earning recognition as a world leader thanks to developments like Zip World and Surf Snowdonia."
Gill Kreft, chairwoman of Wrexham Business Professionals, said it would "put north Wales on the map".