Ethnic minorities 'more likely to suffer crime' in Wales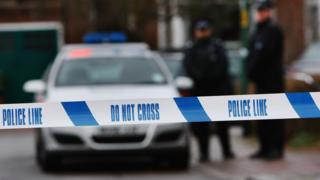 People from black and ethnic minority communities in Wales are more likely to be victims of crime, a survey has suggested.
About 10,000 people in Wales were questioned for the Crime Survey England and Wales between 2013 and 2016.
Of "non-white" respondents, 22% said they had been victims of crime, compared to 15% of white respondents.
The Welsh forces said they would consider the "important" information.
Race Council Cymru's chief executive Uzo Iwobi said: "These figures are deeply disturbing, but they merely confirm what we already know only too well from our work at Race Council Cymru."
The results of the survey also showed twice the proportion of non-white respondents (30%) felt they were "fairly likely" or "very likely" to be victims of crime compared to white respondents (16%).
However, the results also showed people from black and ethnic minority (BME) communities had greater confidence in police.
About 80% of BME respondents said they strongly agreed or tended to agree that they had overall confidence in their police force, with 73% of white respondents taking the same position.
For these questions, there were about 8,000 white respondents and about 200 BME respondents.
Official figures show 4.1% of Wales' total population is made up of ethnic minorities.
The Police and Crime Commissioner for Gwent, Jeff Cuthbert, said the force had a duty to "treat everyone appropriately" and with respect "regardless of their race, culture or religion".
He added: "You can rest assured that I will be discussing these emerging trends with the chief constable and I will be working alongside him to look at any factors driving any changes so we can continue to ensure that Gwent is a safe place to live and work for everyone."
Assistant Chief Constable of South Wales Police, Jeremy Vaughan, said the information raised in the survey was "really important" to police forces.
"It helps us scrutinise what is working well and where improvements need to be made," he added.
'We were targeted'
Maria (not her real name), 43, lives in north Wales.
The mother-of-six, who works in a factory, moved to the UK from an island off the west African coast in 2007 "in search of a better life".
"My family's experiences with the police in this country have been very negative," she said.
"We moved to a housing estate in north Wales four years ago and were the only black family in the neighbourhood.
"From day one, we were targeted by local people and the police. If there was any trouble, we were blamed for it."
Maria said officers would often turn up at the family's home in the early hours of the morning in connection with false allegations against her teenage son.
"It got so bad at one stage that we had officers calling every night. I felt we were being singled out for every single problem on the estate just because we were the only ones on the estate with different coloured skin," she said.
Maria said further problems with some members of the local community had left the family keeping "the curtains drawn 24/7" and when they have complained about being victims of race-hate crimes it was not properly investigated.
"I'm sorry to say I have zero confidence in the police," she said. "I find it very hard to understand how so many people from ethnic groups are able to say they do have faith in the police force."
Greg George, head of the diversity unit at North Wales Police, said: "We recognise the report's findings and understand the importance of ensuring all our communities in north Wales feel confident in both reporting matters to North Wales Police and that they will be fully and fairly investigated."
Iolanda Viegas, co-ordinator with Race Council Cymru in north Wales, said it had recently strengthened its relationship with North Wales Police by hosting workshops entitled "Cuppa with a Copper".
She said: "As a result, people in our community already feel more confident in reporting hate crimes. This wasn't always the case in the past."
The newly-released research is part of a UK government-led audit of racial disparities which revealed this week black people in Wales are far more likely to be arrested than any other ethnicity.
Black people are almost seven times more likely to be arrested than white in the Dyfed-Powys force area, four times more likely in north Wales and almost three times more likely in Gwent and in south Wales.
The data prompted Prime Minister Theresa May to urge public bodies to "explain or change" any variations in the way they treat different races.