Portuguese man o' war wash up on more Welsh beaches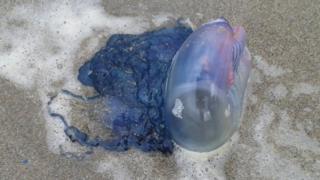 The number of Portuguese man o' war in Welsh seas has risen with reports of sightings in north and south Wales.
Sea Trust Wales said the species of siphonophore - a group of animals related to jellyfish - has a painful sting and in rare cases can be fatal.
It urged people not to touch any washed up on beaches and said surfers with exposed skin are vulnerable.
They have been seen in Cardigan Bay and Mumbles but the trust warned more could arrive in winds forecast this weekend.
A Sea Trust Wales spokesman said: "Children need to be made aware that these dangerous but attractive animals are capable of giving an extremely powerful sting and dog owners need to keep their pets well away.
"Surfers will also be vulnerable wherever exposed skin such as their faces may come into contact with the 10m (32ft) long stinging tentacles."