Calls to help pupils beat 'period poverty' in Wales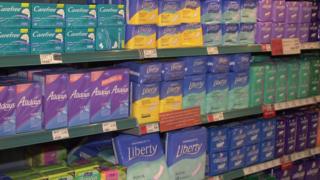 Free sanitary protection should be given to all secondary school pupils in Rhondda Cynon Taff, a councillor said.
Elyn Stephens, who has first hand experience of "period poverty" made the call after charity Plan International UK found one-in-10 girls in the UK cannot afford products.
The idea is being considered by a working group set up in the summer.
A Welsh Government spokesman said it was aware some councils were exploring how the issue may affect learning.
Ms Stephens, 25, who is one of the local authority's youngest councillors, said she was spurred into action by her own experience.
She said: "I don't come from a wealthy family at all. I come from a single parent family, I had a mother and two sisters so you can imagine the strains that put on our household income.
"By speaking to people who are still in school I realised nothing had changed since I was there seven years ago.
"Because the subject has been taboo for so many years, no-one has broached it in the institutions that can actually make a difference."
The Plaid Cymru councillor put forward a motion in July to provide free sanitary products in local schools.
A report into the current situation across the county borough is now being carried out, including a survey of pupils in every secondary school.
'A scary time'
The campaign group Freedom4Girls has also been highlighting the issue and said "period poverty" was a clear issue in schools.
"There's a lot of children that don't attend school because of having their period," Charan Kaur, from Freedom4Girls, told BBC Wales' Good Morning Wales programme.
"It's such a scary time, especially when you are at the teenage age, and it can make that person feel anxieties, extra anxieties have an affect on their wellbeing and they feel isolated, really.
"It's an awful thing to have that feeling and not want to go and get an education because you're having a period."
According to Plan International UK:
10% had been unable to afford sanitary wear
15% had struggled to afford sanitary wear
14% had to ask to borrow sanitary wear from a friend due to affordability issues
19% had changed to a less suitable sanitary product due to cost
(A sample of 1,000 14-21 year olds in the UK were questioned online between 22 to 24 August 2017, by Opinium Research for Plan International UK)
Responding to the issue, the Welsh Government said it was aware that some councils such as Rhondda Cynon Taf are exploring how the issue might impact on learning.
"We will continue to work with education services and consider any new evidence which emerges," said an official.
"Schools in Wales should have arrangements to support learners to ensure their well-being.
"All girls should be reminded regularly that sanitary products are available from named female staff if needed."