Every Valley album to remember coal mining heritage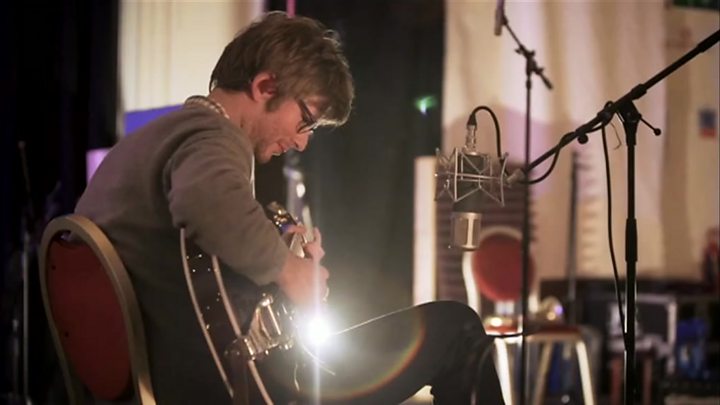 It has been described as a way to remind future generations around the world about the coal industry in Wales.
Not a book or a museum exhibition - but the music album Every Valley by the band Public Service Broadcasting.
The National Union of Mineworkers (NUM) has praised the band for telling the story of the industry and how it affected the social fabric of communities.
Wayne Thomas, secretary of the south Wales branch of the NUM, said it helped convey emotions which were "difficult to put into words" to a new generation.
So how did some ex-miners and a south Wales valleys male voice choir end up on an album which has spent weeks in the top 10?
"I'm still asking myself that very question," said Mr Thomas.
He went on to explain the first phone call he had from John Willgoose, the man behind Public Service Broadcasting, about researching the history of the coal industry.
"With all due respect to John we thought 'English, nice accent we've had similar requests before', so great, another opportunity to tell our story, so to speak.
"He asked about our histories, about knowledge, our involvement, where we've been the last few years.
"The effect, of course of the '84 strike on ourselves, our families and of course our communities.
"In fairness, a very good, very sincere approach."
From first hand testimony, union records, books and a plethora of British Film Institute samples, Mr Willgoose, started creating the album.
Coming from London, he said he had "little knowledge" of the coal industry but has used the voices of people involved to retell the "prideful days" of early 20th Century mining.
Guitar, brass, percussion and samples from films and adverts are woven together in Every Valley.
'Job done'
It includes Welsh language folk singer Lisa Jen Brown, to James Dean Bradfield from Manic Street Preachers performing Idris Davies poetry in guitar-led musical form.
"I would gladly tell people my experiences in the miners strike, of course as everybody else would - those are my personal views," Mr Thomas said.
"But if a story can be told in a different way and people who were not involved in the strike, probably not born at the time, can relate to or ask the question 'what is this about?' then it's job done."
Chris Evans, secretary of Beaufort Male Voice Choir, came into contact with the band through the community radio station based at the nearby Ebbw Vale institute.
"Two of us were just up there doing a little interview and afterwards the interviewer said 'I had a phone call from a band this morning who are looking for a male voice choir'.
"The next thing I know I get a phone call from Mr Willgoose - the rest as they say is history."
The choir feature subtly on several tracks of the album and on their own in the final track Take Me Home.
"It has a real resonance I think for many of the choristers - a lot of them worked in the steelworks and remember the transition from an industrial heartland," said Mr Evans.
"History for these guys is still reality - it's not something that happened in the past; they're still living with the consequences.
"There's a feeling I think that we owe something to our predecessors - both in terms of doing the album we've just done and singing well for people."
Privilege
The male voice choir is performing live on stage with the band during part of their UK tour - something Mr Willgoose said was an illustration of the warmth they have been shown.
"Making the record, we didn't run into any of the opposition or suspicion that I thought we might do, so we can only be eternally grateful for the welcome, support and encouragement from everybody we worked with," Mr Willgoose said.
"I think it genuinely is a special part of the country and it's been a privilege working here."