Concern over norovirus increase by Betsi Cadwaladr health board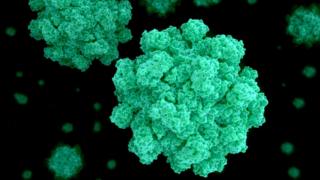 The largest health board in Wales is urging people to be alert to the symptoms of norovirus, amid concerns over a rise in cases this year.
Last November, a major outbreak of the winter vomiting bug hit Wrexham Maelor Hospital and two community hospitals run by Betsi Cadwaladr health board.
The outbreak closed nine hospital wards in north Wales alone.
The sickness bug costs the UK economy £15m every year, according to researchers at Bangor University.
More than 130 patients were affected in north Wales last November and the outbreak resulted in 192 "lost bed days" - occasions where beds were unavailable to new patients.
Tracey Cooper, assistant director of nursing for infection prevention at the health board, said there were already reports of norovirus cases at care homes in north Wales.
"Estimates of the number of people affected are difficult to get because most people who have norovirus stay at home," she said.
'2.9m cases annually'
"We monitor what's happening in the southern hemisphere through the summer, because their summer is our winter and vice versa.
"What we've seen this summer is they've had increasing numbers of norovirus and also increasing numbers of flu and very severe flu.
"Usually what they get in our summer, we then get in winter.
"So we are expecting to see an increased number of people affected by norovirus and an increasing number of people with flu and severe flu."
Researchers at Bangor University in Gwynedd have estimated there are 2.9m cases of norovirus in the UK annually.
They calculate the cost to the economy is £15m every year, although other estimates place the cost much higher.
Humans do not develop immunity to norovirus, meaning people can catch it repeatedly.
It spreads easily, and can be transferred to different surfaces by touch.