CBI and FSB criticise BBC Wales At Work programme axe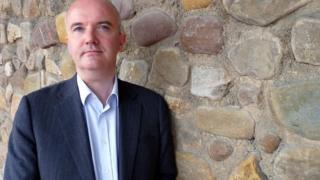 BBC Wales' decision to cancel its long-running Wales at Work programme has been criticised by two business bodies.
The Radio Wales weekly business programme will end when its current series finishes in November.
Writing to the head of BBC Wales, the Federation of Small Businesses (FSB) and CBI Wales called for the decision to be overturned.
BBC Wales said it was a difficult decision but peak coverage would be strengthened on TV, radio and online.
The half hour programme began in 2002.
Writing to BBC Wales director Rhodri Talfan Davies, CBI Wales chairman Michael Plaut said the plan would leave Wales with "far inferior" business news coverage.
He said the programme held "a special place in the Welsh business community" and made a comparison with BBC Scotland, which he said had "strengthened its business coverage in recent times".
The letter has been copied to ministers and the chairman of the BBC.
Janet Jones, chairman of the FSB in Wales, said Wales at Work provided "an essential, balanced perspective of the business landscape" and said it could not be replaced with greater online coverage.
She added that the timing of the announcement was "mystifying" because "this is a time of deep uncertainty for business in Wales given the conditions surrounding Brexit".
She wrote that "the BBC made much of the decision in February this year to increase the proportion of English language output by investing some £8.5m and promising a 'step-change in programming'.
"But that the investment seems inconsistent with moves to reduce important business-focused programming currently offered by BBC Wales, which is already at relatively low levels."
Ms Jones warned that cancelling Wales at Work risked "a reputational impact for the BBC within the Welsh business community".
A spokesperson for BBC Wales said: "Business coverage is a critical part of BBC Wales' news output and we plan to strengthen, not weaken, our coverage in this area.
"We have taken the difficult decision to bring Wales at Work to an end in order to reprioritise funding and strengthen our coverage of business issues on our peak-time radio and television services - where most audiences watch and listen - and through an enhanced online and mobile service.
"As part of these developments, we will launch a new business section on our online news site in the new year.
"In addition, we have recently appointed James Williams to lead our coverage of Brexit negotiations; a critical issue for Wales' business community.
"Alongside our business and economics correspondents, we believe this will enable us to deliver comprehensive coverage of Wales' biggest business and industry stories."