Elsie Scully-Hicks: Baby had 'car crash' type injuries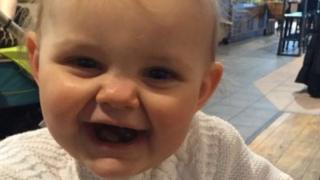 A baby whose adoptive father is accused of killing her had injuries likened to those of a "car crash" victim, a trial has heard.
Fitness instructor Matthew Scully-Hicks, 31, denies murdering 18-month-old Elsie at their home in Cardiff in May 2016.
He has claimed her double leg break was the result of a fall.
But Dr Sarah Harrison told Cardiff Crown Court the injuries were "very unusual".
The consultant paediatric radiologist said: "I have seen them in adults from major trauma such as a car accident or falling from a significant height, but I have not seen that in a child of this age."
Dr Harrison, who examined Elsie following her death in May last year, said the two breaks - to her lower femur just above the knee and her lower shin - were inconsistent with Mr Scully-Hicks' account that she had fallen while using her walker.
Dr Harrison said the break to Elsie's tibia would have involved a "twisting mechanism" where her foot would have to have been held, while the break to her femur would have required her knee to have been held.
The doctor said: "I don't think the fractures I have seen would be caused by a child pushing a walker."
She told the court she had never before seen such injuries in a child in her 20-year experience and were the type usually found in a fall and significant injury.
'History of trauma'
Prosecutor Paul Lewis QC told Dr Harrison that Mr Scully-Hicks claimed Elsie had fallen to the ground while standing, and asked whether that could explain the toddler's injuries.
Dr Harrison replied: "If the fall occurs when the child is standing still we would see typical fractures quite different to the fractures found in Elsie."
She explained young children were known to suffer "toddler's fractures" - a single line of break across a bone - but said Elsie's fractures had gone through the edge of the bones.
Dr Harrison said: "It was a completely different fracture to a toddler's fracture.
"I'd anticipate the child to be running or moving quickly and then falling over with more force than from a standing position.
"These fractures in a child that is not mobile are quite rare. It's very unusual for me to see these fractures without a significant history of trauma."
Elsie died of catastrophic injuries in the early hours of 29 May 2016 at Cardiff's University Hospital of Wales, two weeks after being formally adopted by Mr Scully-Hicks, now of Delabole, Cornwall, and his husband, Craig.
She had been taken in by the couple eight months previously but in that time had suffered a catalogue of injuries.
Medical tests before she died showed she had suffered haemorrhages to her brain.
Post-mortem examinations revealed she had also suffered broken ribs and a fractured skull.
Her injuries were consistent with "shaking impact syndrome", pathologist Dr Stephen Leadbetter told the murder trial.
He said: "The mechanism that is most commonly brought up is Shaking Impact Syndrome where there is movement of the head and the neck.
"There may also be in such movements an element of impact, the head striking against something."
No natural disease
The court heard there was haemorrhaging within both of Elsie's retinas - associated with inflicted trauma or injury.
Dr Leadbetter said that the fracture on Elsie's skull also suggested there had been an impact.
The court heard there was older and recent bleeding on Elsie's brain.
Elsie's internal bleeding could be explained by natural disease or in a person who had been in a car crash or fallen from a height, but no disease was found.
Dr Leadbetter said: "If there is no natural disease that provides an explanation for bleeding the most commonly described mechanism is some form of trauma."
Dr Leadbetter said Elsie died from suffering a "blunt head injury", which triggered a cardiac arrest and starved her organs including her brain of blood.
He noted in a report that "nothing indicated the fracture occurred other than on or close to the day of admission".
Dr Leadbetter said he found evidence Elsie's brain had "twisted" while in her skull causing a tear, which could have been caused either by her head being hit or by a "acceleration and deceleration" shaking movement.
Later, a bone specialist told the court Elsie's broken ribs would most commonly be caused by somebody picking her up and "gripping" her back.
Prof Anthony Freemont, a consultant osteoarticular pathologist, said: "The way in which this most commonly occurs is if the child is picked up staring the person in the face and then they are gripped.
"The fingers are placed around the child and pressure is exerted."
He told the jury that bruising around her tibia and fractures to her ribs and skull were all three to five days old at the time of Elsie's death.
He had seen similar injuries on other occasions involving the grabbing and shaking of a child.
He added there was no sign Elsie suffered from vitamin D deficiency or any other bone condition.
The trial continues.