Suspend vaginal mesh implant use in Wales, says Owen Smith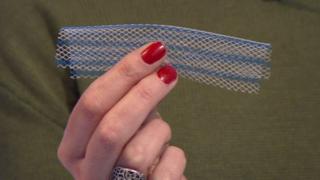 The use of vaginal mesh implants for prolapses should be suspended in Wales, MP Owen Smith has urged.
Campaigners gathered in Westminster on Wednesday to hear the UK Government reject their calls for its use to be halted and a public inquiry held.
Pontypridd MP Mr Smith, who chairs the all party parliamentary group on mesh, called for a suspension in Wales.
A Welsh Government spokesman said its use "is being kept under constant review".
Mesh implants, which include different types of plastic tape and slings, are used to ease incontinence and to support organs such as the vagina, uterus, bowel, bladder or urethra which have prolapsed after childbirth.
Some have caused painful and debilitating complications for patients, with hundreds of UK women launching a legal action against the NHS.
The polypropylene meshes are still prescribed on the NHS across the UK, however recent reviews in England and Scotland said they should not be routinely used for pelvic organ prolapse.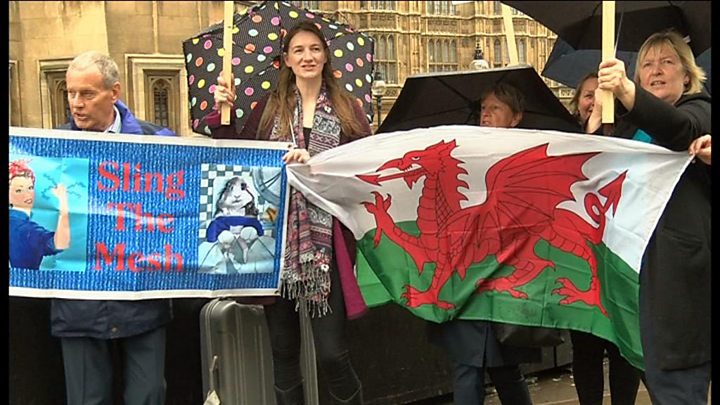 Mum-of-three Karen Preater has campaigned for them to be outlawed, after saying the mesh ruined her life and left her "aged 40, yet feeling 100".
She travelled to the Westminster debate from Rhyl, Flintshire, and said she was disappointed by the decision.
"What more evidence do they need, how bad do things have to get before they look into things?" she said.
"Hold a review, a public inquiry because that's what needs to happen to get the correct figures and actually get a hold of this whole scandal."
The National Institute for Health and Care Excellence will update guidelines on the use of mesh in the new year.
Mr Smith said he hoped cabinet secretary for health in Wales, Vaughan Gething, would at least consider a suspension until then.
"I think we could be thinking in advance of certainty on the guidelines, or suspending the use of mesh," he said.
"Not banning it outright but suspending it in Wales and England, and right across the whole of the UK - that's what we want, that's what the campaigners want."
The Welsh Government's task-and-finish group looking at the issue met for the first time on Monday. It says the situation regarding vaginal mesh and tape is being kept under constant review.
The UK Body that regulates medical products - the MHRA - said the benefits outweigh the risks.