Welsh exporters urged to tap Indian markets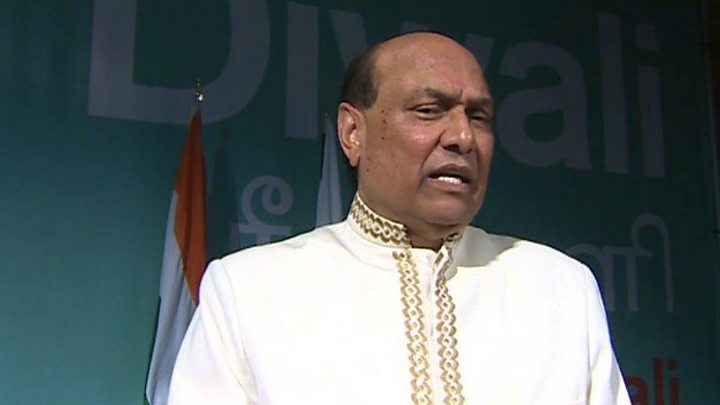 The honorary consul for India in Wales has urged small and medium sized businesses to take advantage of a pilot programme to boost trade.
In the last six months, Wales exported £50m worth of goods to India compared with £5bn to the European Union.
Access India, from the Indian government, aims to make it easier for companies to start trading in the country.
Raj Aggarwal said it provides "a free and complete roadmap for investment".
The programme, first launched in London earlier this month, brings expert advice on tax, the law and accounting, including help with cutting red tape and introducing businesses to the contacts they need.
"We're talking about technology and manufacturing specialist services sectors. It's quite open at the moment," said Mr Aggarwal.
"The whole idea is to support them, hold their hand, provide local expertise and help them in any way logistically we can."
India still only accounts for fewer than 0.6% of Welsh exports but is one the world's biggest growing markets, with 1.3bn people.
Mr Aggarwal joined an event at the Wales Millennium Centre in Cardiff, part of the Diwali celebrations, the high point of the Hindu spiritual year.
First Minister Carwyn Jones highlighted the importance of links between Wales and India at the gathering, saying the Indian community had played an important part in business, education and the health service.
"Wales is keen to build partnerships with India which is of benefit to both our countries," he said.
'Enormous'
Prime Minister Theresa May made India one of her first international ports of call, hoping to secure the foundations for a trade deal after Brexit.
But she was told that India would want to see benefits from it too including more visas.
Mr Aggarwal believes the new scheme for small businesses can provide benefits now rather than waiting for Brexit negotiations to finish.
FSG Tool and Die designs and builds equipment that makes packing for some of the biggest companies in the world.
Half of the Llantrisant firm's sales are exports, with Germany its biggest market. It is interested in building on its limited experience of trading in India over the last 15 years.
Managing director Gareth Jenkins said: "India is a massive market, we're not in any doubt. The potential just on a population basis is enormous and they aspire to live like we do in terms of the food and the services they have."
He said any help from any government was welcome.
Mr Jenkins said tariffs were an issue but they were usually not high enough to cause FSG a major problem. He argued that it was about factoring those into their costs.