Hospital referral waiting times at 18 month high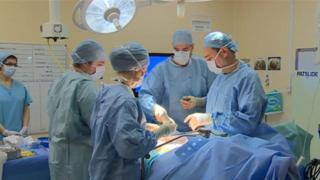 The number of patients waiting over nine months for planned treatment to start in Wales has risen to its highest level since February 2016.
During August, 22,440 had been waiting more than 36 weeks after being referred to hospital - a rise of 2,390 on July.
This is 4.9% of the total number of patients waiting, according to the latest set of health statistics.
There has also been a slight deterioration against the 26 week referral to treatment target.
In August, 85.2% of patients were treated within this six month period - down 1.5% compared to the month before but significantly below the Welsh Government's target of 95%.
This target was last met in Wales in August 2010.
However performance against both targets has been fairly stable since early 2016, with the percentage starting treatment within 26 weeks fluctuating between 85 and 88%.
There is some variance between health boards. In north Wales, 8.6% of patients in the Betsi Cadwaladr area were waiting more than 36 weeks and 81.9% were seen within 26 weeks. In Cardiff and Vale it was 83.9% waiting under 26 weeks and 3.9% over 36 weeks.
Performance data across the NHS in Wales - including the ambulance service - has been released all at once since April.
The latest set of statistics also show:
A slight deterioration in the Welsh Ambulance Service response times performance to immediately life saving calls. In September, 76.8% of 'red calls' received a response within eight minutes, down from 78.7%. This continues to be well above the Welsh Governments target of 65%.
No significant change in A&E performance. In September, 84.5% of patients spent less than four hours in urgent care departments from arrival until admission, transfer or discharge. This is 0.2 percentage points lower than August but 1.6 percentage points higher than September last year. The Welsh Government's target is that 95% of patients should spend less than four hours in A&E but this target has not been reached since its inception.
The figures also show 2,438 patients spent over 12 hours in A&E from arrival until admission, transfer or discharge. This is an increase of 580 patients compared to August 2017 but a decrease of 308 patients compared to September 2016. The Welsh Government target is that nobody should spend more than 12 hours in A&E.
A mixed picture but no significant change on cancer waiting times. In August, 87.4% of patients first diagnosed with cancer started definitive treatment within the target time of 62 days. This is below the target of 95% (which was last met in Wales in 2008) and down 1 percentage point from July 2017.
There was improvement in performance against the 31-day cancer target. In August, 98.3% who were newly diagnosed with cancer through this route started treatment within 31 days - up 0.3 percentage points from July and above the 98% target. The trend has been broadly stable over the last two years.
If you can't see the tracker, click or tap here.