Reported crime up with hikes in harassment and sexual offences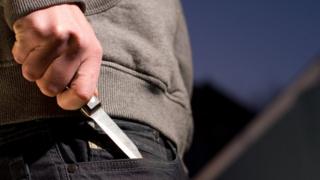 The number of recorded crimes in Wales has risen by 10% in the last year with spikes in harassment and sex offences.
The Office for National Statistics (ONS) data showed Wales' four forces each saw a year-on-year increase.
Gwent Police had the highest increase - with overall crime going up by 14%, while Dyfed-Powys had the lowest at 3%.
In South Wales the rise was 11% and in North Wales 7%. There were about 209,000 crimes recorded across Wales in the year ending June 2017.
South Wales Police said: "Our approach of actively encouraging people to come forward and report crimes continues to be reflected in these increases in reported crimes."
It also attributed the rise to a change in recording methods but added: "We do recognise that there has been a genuine rise in some crime categories".
The other forces have been asked to comment.
The figures also showed Dyfed-Powys Police had the lowest rate of crime per capita of any other police force in the whole of England and Wales - 43 reported crimes per 1,000 people.
Across Wales the number of recorded stalking and harassment offences increased by 37%, sexual offences were up 24% with violence against the person offences going up by 18%
Violent crime was up 18% and robbery also rose by 18%
However, offences involving death or serious injury caused by illegal driving fell by 43%.
Almost half of the recorded crimes in Wales - or around 101,000 - were in the South Wales Police force area, with 43,000 in Gwent, 42,000 in North Wales, and 22,000 in Dyfed-Powys.
The overall number of crimes recorded across England rose by 14%.
The ONS said improvements in recording crime remain a factor in the rise, but they also suggest police were dealing with a growing number of offences.
Police-recorded offences are one of two official sources used to analyse trends in crime.
The other is the Crime Survey for England and Wales, which gave an estimated total of 10.8 million incidents of crime in the year to the end of June.
This figure includes experimental data on fraud and computer misuse offences, and annual comparisons will not be available until January.