Oxbridge Welsh student intake unacceptable, says Kinnock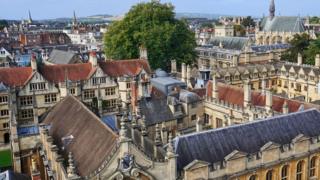 Oxbridge must do more to address its "completely unacceptable" lack of Welsh students, an MP has said.
Stephen Kinnock was reacting to figures which showed 101 pupils from Wales were offered places at Oxford in 2016 compared to 672 from the south east.
Of those, 86 pupils accepted - 3.3% of the university's total intake - while Cambridge offered 71 places to Welsh students with 57 accepting, just 1.6%.
The universities said they were listening and want students to apply.
The figures were released to Tottenham MP David Lammy under the Freedom of Information Act.
Mr Kinnock, MP for Aberavon, tweeted: "As a comprehensive school boy who went to Cambridge, I feel passionately about this issue.
"Oxbridge can and must do more to broaden access. 50% from London / South East & just 2% from Wales is completely unacceptable!"
The figures revealed sharp regional disparities across the UK, with Wales, the former industrial heartlands of north-east England and the Midlands receiving disproportionately fewer offers than other regions, despite achieving similar GCSE and A-level grades.
Regionally, 29 students from Anglesey applied to Oxford between 2010 and 2015, with just one being successful.
In Blaenau Gwent, 24 students applied across the same five-year period, with two students being successful.
In Merthyr Tydfil, 31 students applied across the same time frame, two of whom received offers, while of the 60 who applied from across Gwynedd, just five were offered places.
Wealthier English boroughs such as Islington had a 32% offer rate.
However, Ceredigion did buck the trend in those years - being one of the regions with the most successful number of applicants to Cambridge University.
Mr Kinnock said: "Both Oxford and Cambridge should be doing more to reach out to communities and schools that have never sent anyone to Oxbridge.
"[Some] teachers don't really think of it as an option."
Oxbridge should "target young people on free school meals" and "launch an outreach programme that places a disproportionate amount of resources into Wales", he added.
A Welsh Government spokesman criticised the figures, saying: "We know that Welsh students are currently under-represented at the Russell Group and Sutton Trust group of universities compared to the rest of the UK.
'Appalled'
"We also know that Welsh applicants to Oxford and Cambridge receive disproportionately fewer offers compared to other UK applicants, despite achieving similar GCSE and A level grades."
But spokesmen for the two universities suggested not enough Welsh and disadvantaged children were applying.
In recent years, the Welsh Government has taken steps to address this with the launch of the Seren network - providing events, information days and summer schools to promote access to the top universities.
But organisers said the full impact of the initiative will not be felt until 2018/19, after students had been given two years' of specialist advice and guidance.
Mr Lammy, who has campaigned for greater ethnic and socio-economic diversity at Oxbridge, said he was "appalled by the findings".
"This data clearly shows that a privileged background is still the key to getting through the Oxbridge admissions process," he said.
A spokesperson for Oxford said the university would "absolutely take on board Mr Lammy's comments".
A Cambridge spokesman said: "High-achieving students from Wales should strongly consider applying to Cambridge."