Retro games consoles collection goes on show in Swansea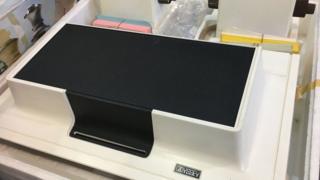 One man's collection of computer games consoles dating back nearly 45 years is to go on show at a museum.
Samuel Anstee, from Caerphilly, has every one of the eight generations of consoles released in the UK since the first went on sale in 1973.
He said he approached the National Waterfront Museum in Swansea as he had so many in his attic.
People will be able to have a go on the consoles as part of the exhibition.
Visitors to the museum from Saturday until March will be able to try a game from each generation of console, including Generation Five's early Tomb Raider and Tetris on an original 1990 Nintendo Game Boy.
Mr Anstee has been playing computer games from a young age, having been born in 1972 - the year the first recognisable console, the Odyssey made by Magnavox, came off the production line.
His collection includes a rare Odyssey made in that first two-week manufacturing run in the United States in August 1972. The Odyssey reached the UK in 1973.
He also has Atari, PlayStation and Nintendo consoles.
"I keep it all in the attic of our bungalow and that's why I got in touch with the museum," he said.
"I was like, 'I've got all of this stuff and I don't know what to do with it. Do you want it?'"
Andrew Deathe, who is putting the exhibition together, added: "We have everything, right from the very first console, the Odyssey, which came out in 1973 in the UK, right up to virtual reality systems that have just been produced in the last year for PlayStation, for example.
"So, we're covering every aspect, every console that has come out really in this period."
After its run in Swansea, the collection will then move to Pontypool Museum.