Self-employed workers in Wales 'need more support'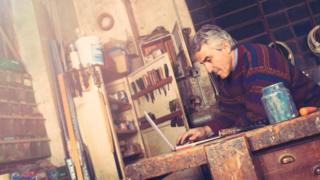 Economic policy needs to change to better reflect working patterns in Wales and the large rise in self-employed people, a new report has said.
More than a third of new jobs in Wales over the last decade involved the self-employed.
A report by the Federation for Small Business (FSB) urged a major review into Welsh Government support.
The Welsh Government said: "We have now received this report and are considering its content".
The Going Solo study also highlighted self-employment levels vary widely across Wales - as do the types of work involved.
In Powys, 23 % of new jobs are self-employed while in Neath Port Talbot the level is only 8.6%
Across Wales 38% of new jobs since 2007 were self-employed, lower than the UK rate of 44%.
But it marks a significant change for the Welsh workforce.
The report's authors, Dr Mark Lang and Prof Andrew Henley, found in urban Wales, self-employed people are more likely to be working for businesses or the public sector as consultants or suppliers.
In rural Wales, they are more likely to be in the primary sector - those industries which directly use natural resources, such as agriculture - while in valleys communities they are more likely to be involved in construction.
CASE STUDY: A DECADE OF CHOCOLATE BROWNIES
Kate Jenkins started Gower Cottage Brownies 10 years ago from her kitchen, selling in the village shop "as a way of making pin money".
Now she produces 500 gift boxes a day at peak times and sells as far afield as Japan.
"It excites me and I pinch myself to see how far we've come," she said.
Ms Jenkins is not surprised more are people becomming self-employed, as it coincided with the recession and people being laid off.
But she said more start-up help would have been beneficial - and more understanding of the place of the self-employed in the economy.
"Sometimes some hand-holding to point out some of the basics needed to start it - if they give that support at the start, they can fend for themselves in the years to come."
The report also found the south Wales valleys has the highest concentration of self-employed among those with low skills levels or no qualifications.
It argued that indicated blanket support programmes for the self-employed, offered to graduates and non-graduates alike, may be "inefficient and ineffective".
Janet Jones, policy chair with the FSB in Wales, said: "The needs of a self-employed person in Newport would clearly differ from those of someone in Mold, and our policy-making needs to reflect this in order to be most effective."
The FSB said it wanted "decisive action" to ensure disparities in self-employment across Wales were addressed.
The Welsh Government said: "Supporting entrepreneurs and small and medium-sized enterprises by creating the right environment and providing support tailored to their needs remains a key commitment."
It added it was planning to publish an economic action plan later this year to set out a range of actions to support businesses and entrepreneurs.