Life-extending lung cancer drug to be made available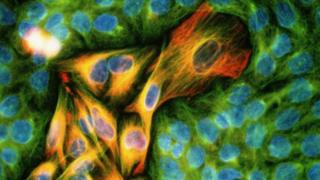 A new life-extending drug for lung cancer patients will be made widely available in Wales.
Nivolumab will help treat people with non-small cell lung cancer which is at an advanced stage.
The drug will be available to some people when chemotherapy or radiation treatments are ineffective.
An agreement has been reached between NHS Wales and manufacturers Bristol-Myers Squibb to make Nivolumab available before 9 December.
The drug is already available in Scotland and England approved it in September. It can also be used to prolong the life of patients with melanoma, kidney cancer or blood cancer.
The drug works by promoting the patient's own immune system to attack the tumour by targeting protein.
The PD-L1 protein can be found on the surface of lung cancer cells. However quantities of the protein vary.
So Nivolumab is at its most effective when the patient has larger amounts of the PD-L1 protein. Non-small cell lung cancer is the most common form.
Vaughan Gething, Cabinet Secretary for Health, said the deal is part of the New Treatment Fund which aims to "support faster and more consistent access to medicines".