Steel workers urged to claim compensation for respiratory disease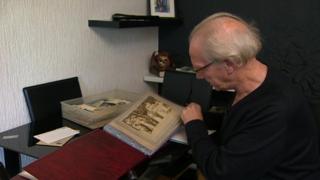 Former steelworkers who suffered ill-health after working in coke ovens have been urged to come forward ahead of a deadline for compensation.
More than 200 former British Steel employees from Shotton, Llanwern, Ebbw Vale, East Moors and Port Talbot have claimed a lack of protective equipment caused them respiratory illnesses.
Claims date back to the 1940s until proper protection was given to workers.
Tata Steel said it could not comment as the legal process was ongoing.
Tata acquired Corus in 2007, eight years after it was created through the merger of British Steel and Koninklijke Hoogovens.
Lawyers representing the former workers secured a Group Litigation Order at the High Court in February. Former workers have until 23 February, 2018, to make a claim.
Family members of employees who have since died are also able to make claims.
Brian Smith from Bridgend was 18 when he lost his father, John, who worked in the coke ovens at the Margam works in Port Talbot.
After complaining of chest pains he took the day off work, but died soon after, aged 49 in 1970.
Mr Smith said his father had suffered with respiratory problems for years.
"It wasn't the greatest job in the world, but it was a job - he'd been out of work before and it allowed him to keep a family and that was his main thing," he said.
"He'd catch something, he'd end up with bronchitis or pleurisy and he'd end up in bed for weeks on end.
"Was it what he was doing that caused his death, or was it just one of those things?
"Maybe in some way it'll give me some more answers... maybe the answers won't come, but at the end of the day you'll know you've done everything possible to find the answers."
James Gibson from Hugh James Solicitors, one of two legal firms representing workers, urged others to come forward before the deadline passes.
He said: "These are very serious conditions - chronic obstructive pulmonary disease (COPD) for example is a very debilitating disease, many claimants are oxygen dependant and some have sadly passed away."
He added: "Nevertheless each individual still needs to prove that their disease was in fact caused by the negligence of the defendants."