Elsie Scully-Hicks 'high rickets' risk hears murder jury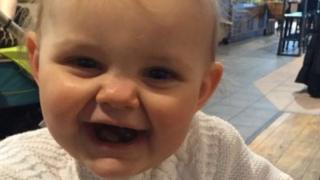 The trial of a man accused of murdering his adopted baby daughter has been told she could have been at "high risk" of the bone disease rickets.
Matthew Scully-Hicks, 31, denies inflicting catastrophic injuries on 18-month-old Elsie Scully-Hicks at their Cardiff home.
Prof Michael Holick, a defence witness, said the girl had "classic signs" of vitamin D deficiency.
The trial at Cardiff Crown Court is continuing.
Prof Holick, who is a professor of medicine at Boston University in the USA, told the jury he had been asked to review the reports of other medical experts and saw scans of her bones.
He explained that if bone density is weakened, it affects the fragility of the bones.
"In my opinion, with a high degree of medical certainty, if I was to see her with that blood level there is no question she was vitamin D deficient and extremely high risk for rickets."
The court previously heard that Elsie was found to have fractured her leg above her right ankle and was placed in a full-leg cast which she wore for three weeks.
The images were reviewed after Elsie's death and two fractures were then found; the lower leg fracture and a second fracture in Elsie's right femur, just above the knee.
Prof Holick said he looked at the scans and what had been diagnosed as fractures were "classic radiologic signs for vitamin D deficiency".
Previously, another medical expert quizzed by prosecutors told the jury there was "nothing at all" to suggest that Elsie's bones were anything other that healthy or normal and that no evidence of vitamin D deficiency or rickets had been found.
Cross-examined by the prosecution's Paul Lewis QC, Prof Holick was asked what rickets might have to do with retinal and brain haemorrhaging, the expert answered: "Nothing."
Mr Lewis said: "The vitamin D deficiency has got nothing to do with the things that caused (Elsie's) death, does it, Professor?"
Prof Holick said it did not.
Earlier, the trial had heard Mr Scully-Hicks, from Delabole, Cornwall, could not accept medical reports which said his daughter had suffered a "shaking-type injury".
She died in hospital on 29 May 2016.
Four days before Elsie's death she was taken to hospital in an unresponsive state after a 999 call was made by the defendant saying he had found her on the living room floor.
A CT scan showed she had bleeding on the brain and post-mortem examinations revealed she had also suffered broken ribs, a fractured left femur and a fractured skull.
There was also haemorrhaging within both of Elsie's retinas - associated with inflicted trauma or injury.
Elsie's injuries were "very typical" of babies who have been shaken, the court had been told.
But a transcript of Mr Scully-Hicks' police interview carried out on 21 December 2016 was read to the court on Monday.
He said: "I want answers as much as anybody but I cannot accept that the only answer people are giving me is that I have caused these injuries.
"I am not satisfied the medical reports explored everything, they explored one option."