£2.7m supply teacher project to help schools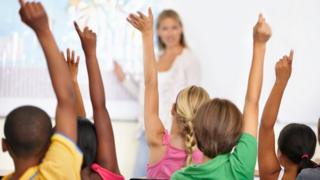 Unions have welcomed a £2.7m education project as a "first step" towards addressing concerns about how supply teachers are employed.
The Welsh Government funding will support new supply arrangements for 15 councils and help 50 new teachers.
It comes after warnings that many supply teachers were considering leaving the profession due to poor pay.
The NASUWT union said it did not address the "ongoing exploitation" of other supply teachers across Wales.
Education Secretary Kirsty Williams said the two year project would see teachers working across groups of schools to cover teacher absence and to support wider school improvements.
She said the new funding was about "being more flexible and innovative in our approach to covering teacher absence".
'Increasingly frustrated'
The National Education Union Cymru welcomed the investment as a "first step towards wider reforms" but Welsh secretary David Evans said further changes were needed.
"While it will allow some newly qualified teachers to secure a foothold on their chosen career it won't tackle the concerns of those vastly experienced supply teachers who need to be afforded the same opportunity," he said.
The group Fair Deal for Supply Teachers called it an "insult", ahead of a lobby at the assembly on Wednesday.
NASUWT general secretary Chris Keates said: "It does not address the ongoing exploitation of all other supply teachers across the country who are becoming increasingly frustrated by the failure of the Welsh Government to secure for them access to their entitlements on pay, conditions of service and pensions."