Social housing gave Chloe Ambridge 'independence back'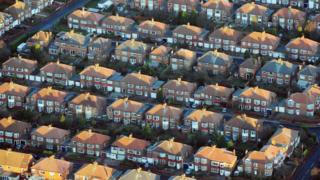 Recipients of the Local Housing Allowance fear life will go "down hill once again" if their income is capped.
Chloe Ambridge from Barry moved into social housing after she was kicked out of her home.
The £115 of income support she receives each fortnight will be capped from April 2019 under a new UK government initiative.
The 19-year old fears other in her position will find life "impossible" if they need to find £10 more a fortnight.
Local Housing Allowance rates are calculated using a sample of the cheapest rents in each area.
Community Housing Cymru (CHC) has said the latest plans are "flawed" and added that rental rates do not reflect the reality of the market.
Chloe's story
Ms Ambridge's first experience of being homeless came before she turned 18 as a result of family problems during her teenage years.
She said: "I was having a few family problems and things were not going well for me. One thing led to another and it ended up with me getting kicked out of my house.
"I was sofa surfing for a while and other times I was sleeping rough. I did have friends to help me out for a while but I did not feel good about staying with them because I felt I was over-staying my welcome."
As a result, Ms Ambridge spent more time sleeping rough, an experience she described as "really scary".
She added: "I did not know what to do with myself and I did not know what to do when people walked past. I was really frightened because I was very young and vulnerable and there would be a lot of drunk people around."
Ms Ambridge's troubles took a turn for the better when her support worker helped her find social housing.
She said: "Getting involved with this scheme and gave me the chance to get my independence back. I do not think I would be where I am now if it was not for her. I feel a lot more confident in myself now.
"If it was not for this house, my support worker and my two housemates I do not know what I would do - they are literally my family."
Although life for Ms Ambridge is much improved in her social house, making ends meet is a constant struggle.
She said: "I get income support which is £115 a fortnight but out of that I have to pay rent, bills and TV licence. After that I am usually left with £15 a fortnight and that has to cover food and transport. Once I had just £6 spare. Even when it is £15, that is usually gone within two days."
With such a small amount of money available every week, any increase to rent where income support does not also rise could result in Ms Ambridge becoming homeless again.
"Any increase would stress me out a lot, I would probably get very upset because I just could not get by so I would end up going down hill once again," she added.
"Other people in my situation struggle as well. It is impossible to do anything nice for yourself when you have no money to do it with."