Pay-offs considered in long-running Caerphilly council dispute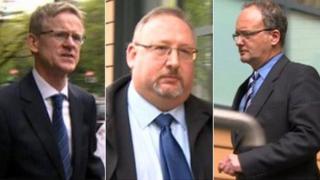 A deal could be struck to approve a financial settlement for two of three senior council officers who have been suspended on full pay for years.
Caerphilly council's deputy chief executive Nigel Burnett and head of legal services Daniel Perkins were suspended in 2013 after a Wales Audit Office report on salary increases.
The former chief executive Anthony O'Sullivan is also on "special leave".
Councillors will be asked to consider a package for two of them on 31 October.
It was claimed in September 2012 that the three officers agreed to give themselves 20% pay rises when most council staff faced pay freezes.
The pay rises were later changed to smaller increases.
A police investigation into the affair led to a a criminal case which was dropped in 2015.
An internal investigation has been ongoing but now councillors will be asked to approve settlement deals for Mr Barnett and Mr Perkins.
The size of the financial agreements and the terms have not been made public at this stage, but they are expected to be substantial.
The report to councillors stated that "in both cases, the cost of this settlement is less than the cost of continuing with the investigation".
There was no information on whether another settlement with Anthony O'Sullivan is likely in the near future.
The overall cost of the affair to Caerphilly council has already run into millions of pounds.
It was revealed in June that the cost to the authority had reached nearly £3m.
The bill has continued to rise, with more than £2m now paid in salaries to the three men over the period, and £500,000 in legal costs for the council.
Leader of the Plaid Cymru group on the council, Colin Mann, said many local people would be "naturally concerned and upset" that a financial settlement was being put forward.
"If the settlement is agreed we would expect and demand that the council gives details of the payments made to the two officers as this is public money and the public have a right to know," he stated.