Welsh workers build new eco-maternity unit in Uganda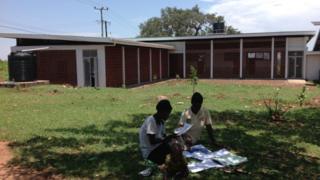 Welsh volunteer apprentices have helped build a new maternity unit in Uganda.
More than 20 apprentices in the construction industry were involved in the project, which uses solar power, passive ventilation and rainwater harvesting.
Welsh midwives also volunteered to fly out to Kachumbala in eastern Uganda to help train local healthcare workers.
Project leaders said the support offered by the NHS team had already "saved four lives" at the unit.
The three-year project to design and construct two labour suites, an eight bed ward, offices and stores has been overseen by the Cardiff-based charity Engineers for Overseas Development (EFOD).
During the construction, 22 volunteer apprentices made a total of 32 trips to Uganda in two-week stints to assist and supervise local workers.
Now the £110,000 unit has been completed, volunteer midwives from Wales will continue to make trips to Uganda to help with further training of local healthcare staff.
The country has a high infant mortality rate and one hospital can serve a population greater than Wales, EFOD said.
The charity worked on the project in partnership with international design company HKS and Cyfle Building Skills, a Welsh charity which is currently training 140 apprentices for the construction industry.
EFOD managing director Ian Flower said the original maternity unit in Kachumbala was built in the 1950s and was no longer able to deal with demand.
He said: "There are currently between three and five births a day in just two rooms in a health centre built 65 years ago.
"Mothers are advised to stay in the centre for at least 24 hours after giving birth, but with only three recovery beds, some are sent home early when more than three babies arrive on any given day."
Mr Flower added: "The new maternity unit will provide first class accommodation for mothers and the four midwives and support staff who provide cover in the unit for 24 hours a day."
He said four lives have already been saved due to the training provided by Welsh NHS staff for local healthcare workers at the unit.