Decline in Welsh-language book sales since 2011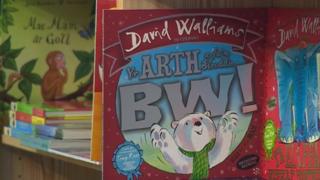 The number of Welsh-language books sold by the Welsh Books Council is at its lowest level in six years, according to new figures.
There has been a 16% fall in the number of Welsh-language children's books - from 234,000 sold in 2011 to 196,000 in 2017.
But the number of English-language children's books rose by 63% in the same period - from 22,000 to 36,000.
The Welsh Books Council and publishers said funding cuts were affecting sales.
The figures, seen by BBC Cymru Fyw, also showed the number of Welsh-language books for adults fell by 18% - from 145,000 to 118,000.
The fall was not as sharp for adult English-language books, which dipped from 152,000 to 130,000 - a decline of 14%.
The figures are based on the body's distribution centre.
Arwel Jones, the Welsh Books Council's head of grants, said it was "a pretty tough time" for Welsh-language books.
"Independent book shops are struggling, sales to libraries are down - the kind of places that would stock plenty - and each one makes a difference when you talk about Welsh children's books," he said.
"All of the projects that encouraged children to read have lost funding and in the long run that has hit those figures.
"When you have big sellers pulling out it has an affect. It is always a battle to sell."
Across Wales, there has been a 15% decrease in the number of libraries over the last decade.
Local authorities were also told at the beginning of October that they face another two years of budget cuts - 0.5% this year and a further 1.5% next year.
The Welsh Local Government Association leader Debbie Wilcox responded by saying councils could not keep making the "harshest" of cuts while maintaining service levels.
Garmon Gruffudd, managing director at publishers Y Lolfa, accepted that the "climate was more difficult in terms of sales - but we're holding our own".
"There's less money available because of cuts and austerity, it hits everyone - libraries, schools, many visitor centres have closed," he said.
"We've published over 300 e-books but certainly e-book sales are down, but after rising for around five years there has been a significant drop throughout Britain.
"People are going back to print and that's the trend."