Elsie Scully-Hicks: Murdered by adopted father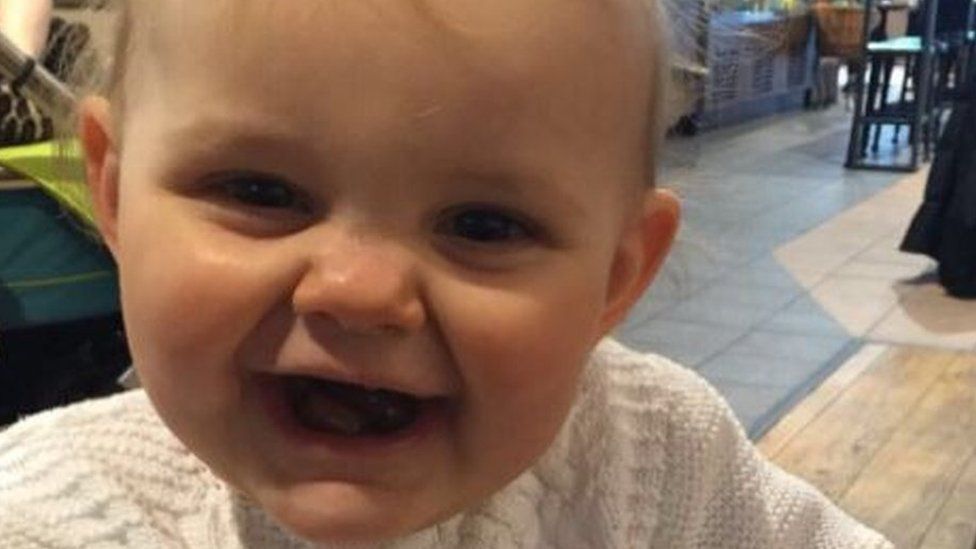 Elsie Scully-Hicks was just 18 months old when she died from catastrophic injuries. Her adopted father Matthew Scully-Hicks inflicted a catalogue of violence on her in the eight months she lived with him.
To the outside world he was a loving, stay-at-home father with regular visits by social workers and health visitors picking up no troubling signs yet two weeks after the adoption was finalised, Elsie was dead with injuries experts later compared to a "major trauma such as a car accident".
Personal trainer Matthew Scully-Hicks and his husband Craig appeared to have everything - a happy marriage, two longed-for children, financial stability and a close circle of family and friends.
But behind closed doors he was struggling to cope, violently losing his temper.
He managed to pass off the injuries he inflicted on his daughter as accidental so as not to raise the suspicions of those involved in the close supervision of the family, as part of the adoption process.
Even his husband did not suspect anything.
During the trial, Matthew's husband Craig Scully-Hicks described an idyllic family set-up: "Let me be clear. My house was filled with love and happiness, all of the time," he said.
"If I had suspected anything I wouldn't have tolerated it."
The couple married in 2012 and decided to adopt.
As Matthew Scully-Hicks told the court, he always saw them as being a "family with two children".
"We were both of the mind we wanted children. It's something we could agree on very early on," he told the jury.
And they were excited for the future: "We had requested [a baby] as young as possible.
"We wanted to see and witness as much as we could. We wanted to be there when they took their first steps and wanted to be there when they said their first word - we wanted to see all of that."
The couple decided Matthew Scully-Hicks would stay at home while Craig continued to work as a company director with frequent trips away overnight.
The couple had already adopted one child and decided to go through the process for a second time.
After undergoing a year-long assessment, 10-month-old Elsie came to live at their Cardiff home in September 2015.
Social workers visited the family fortnightly as the baby settled into her new family.
Health visitor Jodie Golten saw Elsie on three occasions. She said: "She was a happy, smiley child. Loving life, I suppose... smiles all around."
She first visited Elsie a month after she moved in with the couple and wrote in her notes: "She appears to have a lovely, bond growing with Matt. Both giving lovely eye contact and playing together."
When asked in court if she had any concerns about her care, she said: "None at all."
But text messages sent from Matthew Scully-Hicks revealed things were less than perfect at home.
In them, he said he was "struggling to cope" when caring for Elsie - describing her as "Satan in a babygro" and a "psycho" and said she was "having a proper diva strop".
They reported hearing him swearing at the infant and repeatedly telling the crying child to "shut up".
And it was not long before Elsie started suffering injuries which needed hospital attention.
Each time she was hurt, Craig Scully-Hicks was at work and his husband had a simple explanation. Or as the prosecution put it, he made up "a story of ordinary domestic accidents to explain something [he] had done".
A month after arriving, Elsie's leg was injured. That was blamed on a fall in the kitchen. A doctor found one fracture but missed another. If the second fracture had been spotted doctors would have raised concerns about child protection, the court heard.
Two months later she had a bruise on her forehead, which Matthew Scully-Hicks said resulted from her banging her head on a play kitchen.
Health visitor Ms Golten saw the bruise on a home visit and questioned Matthew Scully-Hicks about it.
She later wrote in her notes, "Dad reports he sought medical advice after this incident" and later told Cardiff Crown Court it seemed "plausible for her developmental stage".
On 10 March 2016, about two months before her death, Elsie fell down the stairs. Matthew Scully-Hicks said he had failed to close a safety gate correctly and it had opened when she pulled herself up on it.
On this occasion he called 999. The jury was played played the 27-minute call he made, in which he could be heard saying: "Elsie, Elsie, come on, stay awake, stay awake, stay awake, babe, come on".
Elsie was taken to hospital but was discharged later that day.
Ms Golten phoned Scully-Hicks on 5 May 2016, shortly after receiving a note from the hospital about the fall. After the conversation she made a note: "Appropriate action taken from dad".
On 25 May, Matthew Scully-Hicks made his second and final call to the emergency services.
Elsie was unresponsive on the living room floor.
He said he had left the room after changing her nappy and on his return found her there. Police officers arrived to find him carrying out CPR on her tiny body and took over, with the child rushed to hospital.
When Craig Scully-Hicks went from work to the hospital, he saw his daughter on the operating table with medics trying to save her life.
It was at the hospital Matthew Scully-Hicks' story began to fall apart. His behaviour struck paediatrician Dr David Tuthill as "very unusual".
"Most resuscitations, people are in tears. Parents are normally in floods of tears. It struck me as very unusual. It was very strange and out of the ordinary," he told the court.
Paediatrician Dr Nia John was called from home to see the couple following the results of a CT scan. It had shown bleeding on the brain later described as being consistent with a "shaking-type injury".
This time Elsie didn't come home from hospital. She died on 29 May 2016.
Tests showed she had a series of broken bones and a fractured skull, caused days earlier. All of her injuries pointed to a non-accidental cause.
Dr Sarah Harrison, who examined Elsie after her death. said of her leg injuries: "I have seen [these injuries] in adults from major trauma such as a car accident or falling from a significant height, but I have not seen that in a child of this age."
She said she had never seen such injuries in a child in her 20 years of experience.
Pathologists told the court Elsie's injuries were consistent with "shaking impact syndrome" and that her broken ribs were likely caused by being gripped.
But throughout the trial, Matthew Scully-Hicks maintained ignorance as to how Elsie sustained her injuries.
When questioned by police, he said: "I want answers as much as anybody but I cannot accept that the only answer people are giving me is that I have caused these injuries.
"I am not satisfied the medical reports explored everything - they explored one option."
He insisted he "was able to cope" and "wasn't stressed" while caring for Elsie. But the jury rejected his claims.
Elsie died at the hands of one of the people who should have cared for her most.
Matthew Scully-Hicks was able to hide the violence he inflicted on the 18-month-old child from his family and from the social workers and health visitors who supervised the adoption process.
Elsie's case will now be considered as part of a child practice review (CPR) - a review which is triggered whenever a child dies or is seriously injured and abuse or neglect is thought to have been involved.
The review will consider whether there are lessons to be learnt which may prevent another child suffering the same fate as Elsie.