Instruments for Kids project seeks old music equipment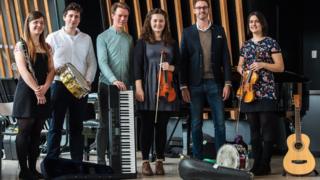 A national music project to get people to hand over their old and unused instruments to children is being launched.
A pilot project earlier this year saw 50 instruments brought back into use after being donated by AMs and staff at the Welsh assembly and government.
A concert is being held using some of the old instruments on Thursday.
Education Secretary Kirsty Williams is launching the project at Cardiff's Royal Welsh College of Music and Drama.
Ms Williams said: "We believe that every child should have the opportunity to learn an instrument. That is why, together, we are making a commitment to finding new and innovative ways of making sure children across Wales get access to music.
"We hope that Wales' love of music will inspire people to dig out and dust off their old instruments in November for us to give them a new lease of life and pass on to children to enjoy for many more years to come."
The Novello Orchestra is changing its name to The Not New Novello Orchestra for a concert to mark the start of the Instruments for Kids project.
Founder David Mahoney said: "The benefits of music making are endless and this scheme will provide a perfect opportunity to introduce musical performance to those who may not otherwise have been exposed to it."
The project will distribute the instruments through local authorities to children and schools where a need has been identified.